Crystal Balls and Commas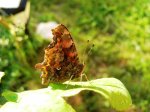 Sat, 16 May 2015
True to form, an earthmoving experience wakes me at 5.00 a.m.; my husband re-launching himself into our bed after taking a pee.  Getting in and out of bed, for him, is a major manoeuvre, and, I feign sleep...rather that, than lose my temper.  I love him dearly, and feel for him, yet pity will serve no constructive purpose in the future.  We can't change things...just cash in on what we have, like it or lump it.  I often feel guilty when I appear heartless, but encouraging him to push himself to the limit, means he is sometimes surprised at what he achieves.
Wide awake by now the days of the week run riot in my head.  Is it Friday, today...Sunday – maybe Thursday?  In the end I plump for Saturday – now we're retired they're all a bit the same.  Except, of course, Monday which is housework day, Wednesday which is washing towel day, Thursday, clean bed linen day, and Friday, is the Tesco weekly shop.   But Saturdays I like, and I drift back to sleep looking forward to doing battle with the Telegraph Prize Crossword...the highlight of my week!
At seven-thirty, husband is still asleep.  I creep to the bathroom and pray he's had a good night. Parkinson's gives him 'restless leg' syndrome and if he's had one of those nights he won't be up to much today.  He's had a good night, he tells me, when I wake him after walking into the chair by the door. He calls me 'Calamity Jane' and he's not far wrong.  Well, wasn't I the one on whose head
a wall-clock fell whilst doing the weekly dusting?  Never mind, a trip to A & E, and a few stitches later, I was as good as new, until the time I was bitten on the mouth by a spider who had managed to crawl into an uncorked wine bottle, doing its best to 'breathe' on a table set for Sunday lunch which found its way into my glass...bearing in mind, of course, that there's many a slip 'twixt cup and lips.
Back to more mundane matters, post breakfast, we tackle the crossword together, and then he disappears into his beloved garden to do battle with our hedge.  He is 'laying' it he tells me; lucky hedge, I think to myself.  And...oh, overlooked to mention it is a hawthorn hedge and very, very prickly so he dons his waxed raincoat over his shorts, his wellie boots, a baseball cap (yellow with stains of a dubious nature...YUK!) and a pair of Perspex goggles, resulting in him resembling a cross between Biggles and Donald Duck. I potter in the kitchen preparing vegetables for dinner...home-grown by his fair hands...at this time of the year, at least.  From the window I catch a glimpse of him halfway up the field.  Good, I think to myself, he's having a good day, but bet anything you like he'll be 'off' by the time he comes in gasping for a coffee.  By 'off' I mean when he suddenly becomes zombie-like and can hardly move or speak.  More often than not it's because he's forgotten to take his pills (which are scheduled every two hours), but sometimes, for no reason at all.
He's not 'off' as it so happens so we drink our coffee and watch the birds and squirrels.  Usually this is as exciting as it gets, except today we get a frantic telephone call from our seventeen year old granddaughter asking if I have any feathers.  'Feathers?' I ask.  'Yes – feathers' she replies.  'I seem to remember you've got some in a vase on your landing, Grandma'. I tell her, no she certainly can't have those – they're pheasant ones and cost me about five quid each (I have a thing for feathers, you see...and so, obviously does my granddaughter.  'What do want them for?' I ask.  'A fancy-dress party.  I'm going as an Indian squaw'.  
To cut a long story short, I managed to drum up some feathers – various, that I had collected over the years from the garden and later, when she came to collect them, she left, more than satisfied with a crow's, two pigeon's and one that we couldn't identify...mind you, she knows as much about birds as my husband does, who often sees a sparrow masquerading as a blackbird – but it's usually because he doesn't, and won't wear his spectacles.  If you knew, Ashley, my granddaughter, you would have learned never to expect anything back you lend her...not that I want these particular items back, you understand...only a pair of earrings I lent her for an art project, of all things, two years ago now.  She still has them...squirreled away in her jewellery box.  Only trouble is, one's broken and I haven't got the heart to mention it (nor ever will, having discovered them a while back whilst attempting to make her room look less like the aftermath of an atomic bomb, for when she returned from a family holiday. 
It's now G & T time...addicted as I am to this nightly ritual. I sit and look out at the garden and think myself lucky it's been a good day.   And it has...the only thing missing – our beloved daughter. 
Five years have now passed, and things, as they do, have changed.  Parkinson's is a progressive disease, and we have now arrived at the stage when all drug-related options for managing my husband's condition have been utilised.  The amount of dopamine his brain produces is decreasing rapidly and presently cannot be fully replaced through his medication, which is on its maximum dosage, and Deep Brain Stimulation (DPS)being the sole option remaining.  The treatment is far from a cure; involves a major operation to be undergone whilst the patient is fully conscious, and carries with it all the usual risks of any operation, plus some.  The chances of it causing a stroke are extremely high, and occasionally it can worsen symptoms, and at best, the operation can only target one symptom of the disease effectively.
His memory is now not good, especially short-term, and he gets easily confused with dates, days of the week etc, and sometimes doing the simplest of calculations in his head he finds impossible. He still holds a driving licence, but has lost his confidence and prefers not to drive, and I'm far happier that way.  I sometimes wish I had one of those proverbial crystal balls, so I could see what would become of him/us in the long term, and then I am reminded of my daughter, again.
When her cancer was first diagnosed she was only nineteen.  It was terminal, we knew that, and so the first operation she had was to remove the tumour from behind her right ear (or as much as the surgeon could, at least).  She also knew it would grow back, but because she was so young, and the cancer  slow growing, she put it behind her after the op, until the day came when she was well enough for us to take her home.  It was evening time when we arrived, and she was sitting on the bed staring out of an open window to the blackness beyond, her face mirrored there, with its minute scar staring back at us.  She turned round – realising we were there, and gave a small gasp...hand to mouth, as if we'd made her jump; the TV was on, but muted, and it was dark save for the light from the corridor behind us, and a small lamp on her bedside locker.  
We hadn't startled her, she said; she'd heard our footsteps.  What had, though, was the shadow of an elephant, as she'd perceived, with its enormous ears behind us on the wall.  In reality, just a small Comma butterfly trapped inside her lamp.  She laughed it off – she'd always hated 'flying things' as she put it; moths, butterflies, even birds...if they happened to be indoors.  We gathered all her things together, and were about to go, when suddenly she stopped in the doorway – looking back into the room.  
'Mum...they said, the doctors, I mean, if it grew back...the tumour...the surgery would be far more radical, next time. I didn't understand what they meant so I asked them to explain.  The long and short of it was they'd have to cut half my face away... and I'd rather die than have them do that.
Just over ten years later the unthinkable happened the tumour having re-grown and encasing the facial nerve. Both were removed with life-changing consequences, but gradually she learned to adapt to the paralysis of one side of her face, and even returned to her job as a medical lecturer for Hertfordshire Post Graduate Medical School working there until only a few months before she lost her twenty year battle with cancer, after it had sadly spread to her lungs, spine, stomach and beyond.  Crystal balls – not all they're cracked up to be.  Had she the means to foresee her future it was highly likely she wouldn't have had  one. 
Inspired by our daughter, we'll just carry on from day to day, taking each hour, each day, each month as it comes...not forgetting the butterfly in the room. But who could?  Only the elephant, possibly.