It's Only Me, Mrs. Jenkins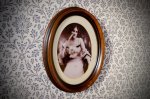 Sun, 11 Oct 2015
It's a programme on TV, Mrs. Jenkins,
cops and robbers. No need to be afraid,
or upset.  It's just a film, it's not real life.
Here...let me wipe your eyes...or I would do
if I could find a blessed tissue. 
You need the toilet, Mrs. Jenkins? Except
 it seems you couldn't wait. Saw your red light
flashing, but I was finishing my tea...
Stone cold it got at that.  No problem,
Mrs. Jenkins.  We'll sort you out.
I'll soon have you nice and dry again.
Are these your photos, Mrs. Jenkins?
Mind if a take a peek?
Who's the man in the hat?  Your son
maybe, or your husband?
Is this the house you were brought up in?
Somewhere in London, it looks like.
The East End...Peckham, Bermondsey?
Timbuktu...possibly?
And that woman by the door, was that your mum?
That your cat in her arms?
My giddy aunt, you don't see that these days;
pinafores, a thing of the past, and all hand sewn 
I shouldn't wonder!
And that beautiful young woman, all dolled up
in cap and gown. Would that be you by any chance?
Wouldn't have thought you'd got it in you.
Just goes to show.  Guess it's true what they say,
'Can't judge a book by its cover'.
You look a little lost, Mrs. Jenkins.
Stands to reason; so would I be…
if I'd forgotten to remember
who I was.