Monday Morning Autumn...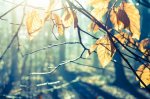 Wed, 27 Aug 2014
1 likes
Monday Morning Autumn...
and a murder of crows insist 
amongst the shawl of pine trees
where we'd lain, and talked
about the sky; me – believing 
summer would always be...
yet in her hand a folly of daisies –
life – like flowers entrenched 
in all things fragile; petals –
wilting.   
They were dying
even as she held them...this
she accepted, this – she knew.
Time to take down the hammock
already full of fallen leaves,
and to pick the Cox's Orange Pippins –
take them inside –stack them
in a pyramid, in a dish.
Dismantle the picnic table –
stash the deckchairs in the barn,
watch the sun swallow the key;
think back to when we folded 
paper napkins into swans
and watched them fly toward 
another Monday morning,
autumn, when all things go by
but time.