No Angels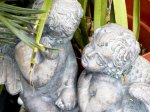 Mon, 18 May 2015
It was raining.  Standing at the open French windows, a redolent wind blew a strand of hair across her cheek, and for a second she fancied there was a certain hint of Byzance in the air– Julie's late sister's signature perfume.  Rain had always been her favourite kind of weather; the feel of it against her skin – bedridden for so long, felt good.  They'd take a turn around the garden – if Anna was feeling up to it – everything born again, smelling fresh and green, as she'd put it.
Six months had passed, and Julie considered that the rain was a 'sign' from her sister that this was the afternoon to finally tackle it. She pulled out a wicker basket from beneath the bed, containing the last and most precious remnants of Anna's life; photo albums...travel journals, and diaries. The two – ever close, and at the end, even closer.  Anna made it no secret she wanted Julie to read her diaries when she was gone, and there was a story to unfold, that afternoon...one that began in the penultimate year of Anna's life; not that anyone realised it at the time, of course. Cancer had cast its shadow over the family for almost two decades, with a diagnosis at just twenty years old.  A rare, slow-growing cancer – couldn't be treated with chemotherapy even; surgery, followed by radiotherapy the only option for as many times as it took.
After an initial operation to remove a small tumour at the base of her ear, she went into remission...married a doctor, and divorced said doctor.  A doctor, no less, who was terrified of all things medical, and I do not jest. Anna's second husband, David, a one-time, qualified nurse, an RGN to boot, wasn't coping too well, either, with the emotional strains and stresses of living with a terminally ill wife, and sought solace elsewhere – namely with one of his work colleagues who bore a striking resemblance  to Anna, if but a few years younger.  Bella had ash blond hair...ivory skin to die for...hardly a blemish, blue-grey eyes, and the most charming smile;  Anna, to a 'T', 'perfectly perfect' (pre-op, naturally) They had only been married a year when she went for a routine scan at The Royal Marsden, and the news broken to them that her cancer had returned, with a vengeance.  
Bella's striking resemblance to Anna was no coincidence.  David had singled her out purposely, and made no bones about admitting it to Anna either...naively wanting them to become friends, and then when Anna snuffed it, finally, Bella would be ready and waiting to jump straight in to fill her shoes.  
How sick was that?  And yet, obviously, her sister was more thick-skinned than she'd taken her to be, (or way more stupid, more like) and she gave him the go-ahead to set up a meeting at a local 'watering hole'.  Julie remembers well her sister's account of that fateful lunchtime liaison when, apparently, the atmosphere in the pub was so convivial, that Anna found herself, of all things, warming to Bella.  At the time, Julie found this hard to grasp but knowing how very much Anna loved her husband (no accounting for taste, obviously)  it became a little easier for her to accept as the weeks passed and their friendship, amazingly, grew.    
Until, in the ensuing months Anna's condition deteriorated drastically, and she found herself unable to continue her professional career...a lecturer in the health sector.  She was given a generous pension, and her prognosis being bleak, decided to spend the windfall on a 'trip of a lifetime', seeing far-flung places she could only have dreamt of till then. 'You can't take it with you', her philosophy. Dealing with much of the logistics herself, she and David were all set, and imminently due to embark...  
Meanwhile, according to David, Bella had become history... which couldn't have been further from the truth as the diaries were about to reveal.
November, 2005 
"I hadn't realised how arduous this was going to be. An absolute nightmare, keeping this from Julie, let alone Mum and Dad.  Julie...you think I told you everything, and I wish I had, but that wasn't the case...hard enough admitting it to myself, let alone you.  I know I'm a fool...I should never have let him move Bella in with us.  Like an idiot, I thought it would work. He'd have somebody else to love when I'd gone. I should hate to think of him pining, and all alone.   God, I want it to work, I really do, but I'm not made of stone.  When I'm lying there, in our bed, in absolute agony because the bloody pills don't work anymore, the last thing on my mind is shagging! Then I hear them in the guest room.  It hurts...sometimes even more than the pains in my head.  Oh, he does sleep with me, off and on; when I'm zonked out from methadone, morphine or whatever, but that's only because they've had one of their rows – usually over me... and it's a case of 'any port in a storm'.    One night, if you'd believe this, he even suggested we make it a threesome, and maybe, for both our sakes, I should draw a discrete veil over that.
Julie's mind back-tracked to Anna's telephone call...just after lunch one Sunday afternoon. It had been snowing and she had not long returned from taking her two children sledging in a nearby park...dog in tow.
"He's leaving me for Bella," she'd said.
And leave her, he did. Apparently, Bella had got sick of Anna getting the lion's share of David's attentions, as she saw it, and had given him an ultimatum. After all, 'Where was his future with a wife who didn't have one?'...his parting shot that had so cruelly hit Anna, right between the eyes; nothing like kicking someone when they're down.
The weeks came and went, and Anna coped, alone, as best she could.  Her 'trip of a lifetime' turning sour, she seriously considered cancelling the arrangements altogether.  Only trouble was, the bookings were so numerous – the itinerary including India, Thailand, Vietnam, Canada, USA...etc.  It flat wasn't practical and she'd just end up losing the money altogether.  Sod him!  She would go on her own.  She could cope...but who was she trying to kid?  She couldn't cope, and she knew it.  Who would help her with her luggage?   On whose arm could she lean when things got too much.  She already walked with a stick, most of the time now. Except, why should her final fling be denied her because of him?  But, sometimes, fate intervenes, in a seemingly no-hope situation.  David, obviously not wanting to forfeit this golden opportunity, courtesy of the coffers of the NHS, or more precisely, his wife's, had 'second thoughts', or so he'd told Anna.  Maybe they should proceed with the trip as planned, and 'see how things panned out'. He was prepared to give it one final go – moving back in with her, about two weeks before they were due to leave.  Bella was history, he said.
For the two months she was away, Anna kept in touch, almost daily, with Julie via email, but there were few hints as to how the trip was really going as far as their relationship was concerned.  Panoramic vistas...photos of orange-clad Buddhist monks...of Vietnamese washing pigs at the roadside, didn't even begin to tell the story; except, in a way, they did.  Anna had already shown Julie most of the travel pictures, but there was one photo album Julie hadn't seen...until now, and on opening it, it soon became blatantly obvious why. Bella was in each and every one...travelled with them at Anna's expense...far from being 'history', she had been part of it.  Julie felt physically sick.  This must have been her poor sister's final humiliation.
Not long after they had returned, he left her...for good this time.  Anna filed for divorce – sold their house and bought a small flat.  She was to spend only six months there.  Two days before she died she made the final entry in her diary.  
December, 2007
"I'm glad I stopped the divorce...sorry, Julie; you didn't know that either.  I relish being a thorn in both their sides for posterity.  Though...shit, I don't really mean that.  David's OK, just a bit of a dreamer, that's all.  A kid, not so deep down inside, but it seems I always attract men like that.  Look at my first husband, George.  OK.... so I made out to everyone, you included, he was married to his job, and not me, but that wasn't true.  I encouraged him to work extra shifts at the hospital, and with that 'flying ambulance thing' he'd volunteered for, only so I could arrange to see David more, it was difficult enough finding excuses. Didn't give a damn when I broke up David's marital home – two kids and all...or that I broke George's heart.  No wonder they call me a 'hard-nosed cow'...to my face, most of the time.  I sure ain't no angel! Geesh! I don't believe I just wrote that...must be the methadone talking.  Anyway... hope God doesn't get to see this, so Julie, do us a favour?  'Read it, then burn it', as they say.  And, I'm not joking.  Mind you, if He did read it I'd get banished to Hell, no doubt, and I could burn it myself there, quite easily...not that there'd be much point then..."
Julie smiled to herself, remembering her sister's amazingly dry sense of humour.  It was clear to her, only now, what David had meant – the day of the funeral just before he'd left, when he'd told her, 'there were things about them she'd never know'.  And, even now, he was probably right.  Nevertheless, that afternoon she had learned much about Anna...even more about what real love was, but mostly, about herself.  
Putting the diaries and album back in their wicker basket, she pushed it carefully beneath the bed again.  Strange to think this bed had once been theirs, Anna's and David's. When her sister became too ill to live on her own, she'd sold her flat, and had come to live with Julie – bringing some of her own furniture, including the bed. 
Julie's house wasn't really big enough to accommodate her sister, what with two teenagers that seemed to take up the space of two adults, and some, each.  Consequently, she worked wonders in recruiting a local firm of builders who converted a large sunroom into a bedroom and an en suite shower room in the space of two weeks.  Unstintingly, she cared for Anna, until it became too much...not only physically, but emotionally.  It is heart-wrenching, watching someone you love suffering...dying a little every day, and it was then Julie arranged a place for Anna in a local hospice... there to spend her last days. She had criticised David so harshly for walking out on her...even blaming him, quite openly for her death, but on reflection,  she had reacted no differently, not when it came right down to it. In reality, she too, was no angel.  Looking death in the eye, day on day, took strength and courage she found she didn't have, which finally, that afternoon, she admitted to herself.  
After Anna's death, Julie and her husband decided to adopt 'Anna's room' as they called it, as their bedroom, along with the bed...solid oak and similar to a four-poster. Leaning back on the pillow, weak sunlight filters through the blinds, and for a second, she senses her sister's presence.  Towards the end, she had spent many a long hour, just lying there with her...when the pain got bad, and the nights had seemed endless.  But there were happy memories too – the room, full of them.  
Like a much-thumbed collection of poetry by ee cummings, Anna's favourite poet, which falls open at one particular poem which had come to mean so much.
"In spite of everything which breathes and moves, since Doom, (with white,
longest hands neatening each crease) will smooth entirely our minds –
before leaving my room, I turn, and stooping (through the morning)kiss
this pillow, dear where our heads lived and were."  ee cummings
Glancing out the window, she notices the rain easing.  Closing the book she places it beside a framed photo of the two of them as kids in a school nativity play, wings and all...in those far-off days, when they were angels – both.