Ten Things I Love...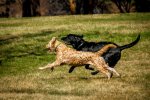 Sat, 01 Aug 2015
A walk in the park with my daughter...
two dogs in tow; the split second
I saw her sister looking back at me
through those same eyes...
a Red Kite, and its offspring
learning to fly – sailing, circling,
swooping in a summer sky.
The little girl next door, cradling
a  rather splendid chicken
in her arms... asking me, would I,
by chance, like to stroke it too...
the musicality of language;
the kink, the camber, the curve
the curl, of a capricious new word...
going out somewhere, just 
to come home...
the heavens mirrored in a creek;
 'the stars like clover at our naked feet'
sparks of static dancing in the dark;
the touch of skin of skin...
the whine of a jet, threading its way
through the slow, cool jazz 
of a lazy, Sunday morning...
the dawning of my world, soft 
and yawning,  beside me – albeit
hogging my pillow...