There are Days, and then there are Days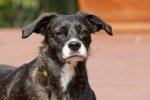 Mon, 20 Oct 2014
The day after the end of the world was the last anyone ever saw of him. The strange thing was, though, it wasn't his usual pitch... outside the station with his mangy mutt; instead, he was sitting, alone on a nearby bench at the entrance to the park.  Propped up by the railings – his weather-beaten placard, 'THE END IS NIGH...'and below it, several dates crossed out – except yesterday's.
"We're all still here then, Joe?  I quipped.  "I was expecting to see the four horsemen of the apocalypse, but they never showed.  Could be they got lost... given the wrong directions, maybe.  Mind you, you 'd think these days they'd be equipped with Tom-Tom," I joked, hoping to raise a smile.  He looked all-in, and I thought it might cheer him up.  
"Waited all day, yesterday, by the river," he said.  'One of the old girl's favourite haunts; she'd meet her 'boyfriend' there sometimes, for a spot of 'how's your father'; one of them posh poodles.  I stayed till dawn this morning...watching, waiting.  Then I came back here...to try and get my head round things.  She's slipped her lead before, but she's never gone this long."
"She'll probably turn up, Joe', as large as life, tomorrow.  You know what they say...Worse things happen at sea.  Hey...one good thing; at least the world didn't end."
"Didn't it?" he replied, and before I had time to think, he just upped and left.  
I shouted after him he'd forgotten his placard.  He stopped, momentarily, and dumped something from his pocket into a rubbish bin.  On closer scrutiny it turned out to be a short length of fraying rope, hanging half in, half out – with a small, brass disc attached, engraved 'Jess'.  
The next morning, like I'd said, she was there...waiting outside the station for him, as she's been  every morning since, the 'old girl'. I bring her a bone sometimes, and other folks see she's alright, but she's not looking so good of late...and the placard, I keep it in my garage, just in case old Joe stops by, one of these days.