The Way of Rain...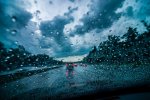 Sat, 30 Jan 2016
the way I always write in the past tense these days...
poems about yesterday, knowing tomorrow is but clouds
drifting toward a horizon they will never reach
and a smirr dampens the air – lifting to mist
creeping inch on inch devouring distant
cloudberry coloured hills.
My head full of thunder when I recall
how you loved to be out walking in such
inclement weather as this...a trick of the light,
maybe, but I glimpse you, head – shouldered
and shy – hidden almost by the hood
on your favourite, old blue oilskin...even though
it leaked like a sieve.
I would dry your face on a towel when you
got home and brought all that rain in...smelling
of foxtail pines and the promise of an early spring.
And then we would sit, you and me, over a cup
of camomile tea...so English, so civilised, so
never again in a lifetime. 
Outside in the yard, rain – pooled in puddles – 
held the sun hostage, for a moment or two...bejewelled 
the windows – as sun-struck as us, and birds would come
for crumbs from your upside-down apple cake; calling
to a mate, repeated again and again, the self-same song,
but with a twist, as if wishing for a different culmination...
such is the way of rain.