Beauty of Florida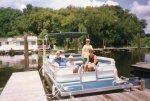 Tue, 26 Jan 2016
1 likes
Dear Diary...there's nothing better than recalling a memory, a chance to relive through writing some moment that plunges me straight back in time. Such a recollection leads me to 1994, when as a family we took a four week trip to Florida, one of the most adventurous holidays I can remember, not only because we visited Disney World, MGM Studios, Universal Studios, Silver Springs, or any of the other places of amusement, but because we set off to experience other recommended indulgences that we would never have done otherwise.
It was during our second week of our holiday that we'd been tipped off about the Everglades and how beautiful it was there from some people in our hotel. Let me tell you; the hotel was magnificent with its opulent high ceilings that towered high above us, I wondered how they ever came to clean up so high. It also had it's own shopping arcade within the hotel, where you could buy clothes, jewelry, perfume, in fact any items for that special occasion, plus there were bars and restaurants within, in fact you wouldn't ever need to go out with every facility available in the one building.
After a full breakfast which will linger in my memory as one of the best ever, long tables in the restaurant were loaded down with bacon and other meats, cheeses, eggs cooked to your liking, fruit, cereal, different breads, plus rolls and coffee plus many different teas and fruit juices, you name anything and it was available to help yourself, we were so spoiled for choice you wouldn't believe it.
Some of the Disney characters actually came to the restaurant one morning, we had our photos taken with Micky mouse and Goofy, which my son wasn't really amused at in the least...well he was twelve at the time, but I on the other hand felt like I'd just met a star, being a fan of Micky mouse and his friends.
With breakfast over, we made our way back up to our rooms which were really plush with all amenities you could wish for, including a huge television which hubby enjoyed watching the American news on.
We prepared for the day ahead, making sure we had our costumes and towels. Snorkeling equipment for my son and his friend...there's no way you'd get me diving, as I have a fear of being under water, or my hubby who detested swimming.
We'd hired a car for the four weeks we were in America, my husband was a natural and made driving on the other side of the road look so easy, not flinching away from any situation we found ourselves in, no matter what! To my great relief.
Coming out of the air conditioned hotel, the heat would hit us like an invisible wall, Phew! I thought I would melt at times. So every day I had to smother myself with suntan lotion, which I spent a fortune on, but at least I didn't burn, eventually turning a gorgeous bronze color that made me feel so healthy, even if I did feel like a tub of lard most days. But getting in the hired car with its air conditioning was wonderful and made the journey that much more enjoyable.
Finally on our way to Everglades, our riverboat trip was to take us to a part of the river where we'd be swimming in what we were told was clear water being able to experience the wildlife up close and personal. Food would be supplied by the driver of the boat which we paid for in advance, so we didn't have to worry about picnic food.
It didn't take us long to reach our destination, we thought we'd be sharing the tour with other visitors, but as it turned out we had the boat all to ourselves. The driver, come tour guide was really friendly and made us feel welcome and comfortable to ask any questions. We each even got to steer at one point, which was an exhilarating experience for me with a warm breeze blowing, it was a great feeling to know I could control the boat too.
The driver told us that there was a law coming in to stop people from driving speed boats too fast as it disturbed the wildlife, especially the manatees that at the time were becoming extinct, they're truly amazing creatures and so agile for their size. I hear now that they're not disappearing anymore and you can even swim with them in a place called crystal river, I wonder! If that's the place where we swam on that day?
The closer we got to our destination, our driver turned the engine right down and at one point we were coasting. The scenery was amazing and although I've never been to Africa, it reminded me of setting off down the Zambezi river, or being in an old Tarzan film with Johnny Weissmuller, which we found out was actually filmed at Silver Springs in Florida.
I could imagine monkeys swinging through the tall trees, leaping from branch to branch, then there were clearings where we were just able to make out some deer, but because they blended into the background so well, it made spying them more difficult. With my imagination and more frightening, I could visulize crocodiles slithering into the water from the muddy banks and hippos wallowing in the mud...elephants trumpeting, or lions roaring in the jungle of trees.
The driver suddenly pointed out what looked like dark logs floating down river, but informed us that they were manatees, I felt so honored to know we'd been privy to them, knowing they could vanish at any time being such shy creatures.
There were many twists and turns in the river with branches that were overhanging the bank, where huge birds perched before once again flying off. I'd never seen such large birds with their incredible wing span, coming from England it's not the kind of thing you see unless at a wildlife park.
The silence when the engine was turned off, gave me a feeling, of us being the only humans alive surrounded by all this wonderful nature.
Then from out of the blue we could hear voices, as once again we turned a bend and finally saw people walking in a certain direction. The driver told us we were there and drove the boat over to the bank where we moored. Climbing out he told us we had a short walk and led the way along a trail.
Clouds were building and the sun wasn't anywhere to be seen, but our spirits were high and we were looking forward to the day. As I remember many of the people we saw were families with young children all as enthusiastic as we were. Children began running along the track desperate to reach the water and swim.
I thought as we got closer, that the river would be clearer, but our guide said it was perfectly safe to swim and dive in, even though it was a bit murky. Many of the children took to jumping in and seemed to be strong swimmers, while I on the other hand was a little apprehensive at the thought of what was lurking in the deep.
Our guide told us to stay within the boundary we were allowed, but told us not to venture any further as there were baby alligators further along, and where there were babies there were also adults too. Of course I stayed close to the bank, not wishing to bump into anything that could be dangerous. I did try holding my nose and going under, but couldn't for the life of me see anything. My son and his friend on the other hand, were strong swimmers and managed to go snorkeling, but the only thing they came up to the surface with, were handfuls of plant life, not really having set eyes on anything of interest.
I found it simple enough getting in the water, but when it came to getting out, well that was another kettle of fish, I had to climb up the bank which was an effort alone, pulling myself up and feeling kind of stupid as yet many of the other adults found it easy...talk about embarrassing! In the end I decided to sit on the bank and watch the others with hubby.
The kids finally had enough and it was time to eat, so drying off with the towels we'd bought with us, we then made our way to the picnic area where our driver had set up food. I have to say by now I was starving and couldn't wait to tuck in. Finding a place to sit wasn't any problem and we found the whole experience of eating out here surrounded by so much nature a real enjoyment.
The driver of our boat was ready to leave when we were, so although many other people stayed to explore the area and walk some more of the trails, we decided we'd had enough and were ready to head back to the mainland harbor. The driver told us that it was probably best we were going back, as the sky was starting to look really threatening and clouds were building quick, although the heat was still causing the air to be very humid.
I was also getting worried on the way back, because it started to rain and we didn't have any form of cover on the boat, apart from a small cover at the front. We'd left the hotel without any macs or coats due to the heat. Now! When it rains in Florida, it comes down in torrents and is usually followed by wind too. We'd only just got half way back when the skies opened up. All I had on was a vest top and shorts.
As the wind got stronger it began to get colder and howled around us. I shivered and clutched my arms, not that it did much good. The driver seemed to be used to the weather, he didn't seem bothered at the tropical storm, but pulled over to the bank and turned the engine off, not prepared to go any further until the storm passed, due to the fact it was hard to see where we were going and the river became a bubbling cauldron of mist and gloom.
The boys were enjoying getting soaked and began laughing, thinking how funny the situation was, hubby smiled a lot too, but was slightly more concerned for me than my son and his friend were. All I could do was sit with my head bent over my knees trying to cover myself with my hands, what a sight I must have looked. I couldn't hear anything for the rain lashing down, goosebumps started appearing on my arms, I felt sure I would never survive the rest of the journey, but as the storm passed and again the clouds disappeared; hallelujah! It was followed by brilliant sunshine and warmth again, so we continued on our way and soon dried out.
It was a real adventure now I look back, having all that rain come down and getting soaked and was probably one of the most memorable parts of the day, but the one great thing about Florida is that no matter how wet you get, it never spoils your time there.