Luster Lost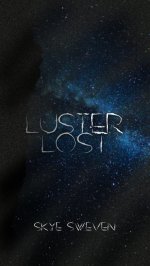 Mon, 18 Feb 2019
They say the mind of man is like the splendor of space. In outer space, there are planets, there are comets, there are stars, moons, supernovae, and there are voids. The mind is likewise. There are thoughts, there are emotions, there are inspirations, desires, feelings, and there are voids. It is infinitely beautiful yet infinitely grotesque. The mind stretches on for eternity but a myriad of stars crumble and shatter in its length.
I sit on my bed, lost in the space inside my head.
There is a void, a voracious black hole, sitting at its center. It eats every shining celestial body constituting my mind. It reaches out its viscous claws of obliteration and crushes stars to dust in its foul grasp. Within its range of reach, not a single speck of luminance stands. I blink to blink the dark away from my eyes but the face of the void digs its gaze inside my skin and sears its presence deeper into my brittle bones. I look back speechless, for words have long since been snatched from my tongue.
Not every light has been expunged from existence from what I can tell. I still see distant smudges of radiance shimmering faintly but they are way too far for me to touch. I lift my fingers in vain, trembling from fear within. Numbness has taken over me but there must be fear still festering in my core somewhere for this trembling is indeed not one caused by the cold. I am insensitive to any physical sensation. Only mental, psychological aggression coming from the nocuous void is inflicting agony upon my soul. I am dragged toward the pitch black monster despite my futile attempts to fight against the heinous gravity. No stars will help. They will fail to hear my mute cries, only watch and then fade away in time.
I am in two different places. Surrounded in the dark, huddled up in my blanket, hands clamped over my ears to drown out the voices that are nowhere and everywhere. Surrounded in the dark, the tips of the void's fingernails hooked on my shirt collar, being hauled out of the safety of light. There's no telling which one's real and which one's not. I can't tell the difference anymore. Maybe they're both imaginary. Maybe they're both real. Maybe I'm the one that's not real in all worlds that are real.
It is not hard to notice that I am in dire need of help. Help from anyone or anything might just be enough to pluck me from my own cerebral apocalypse. Yet I refuse to look up and around in hope to meet eyes with anyone. I refrain from grabbing any hand that might come close enough for me to grab. No one cares anyway, they are too far. I tell this to myself over and over again. I fight but I don't win. I wasn't made to win.
The black hole is much larger than before; I have narrowed my distance with it. In its miasmal glory, the residual dust of the astral bystanders is dyed ink black. The silently effulgent constellations once littering my brain lose their stars until they are constellations no more. Invisible lines linking each star have dissolved. They form no shape, only amorphous figures of faded lone luster remain.
I'm tired. Of holding onto what is left of my light. It's possible that submitting myself to the dark horizon where timeless oblivion awaits, is the best option I've got in my hands. Red and white embers flicker out in front of my eyes. The fight in my blood dissipates, and inertia spreads in its place. Give in and float into the void? Might as well. I need peace and this might be it. I don't even bother shedding a tear as emotions have been ripped from me eons ago---it's also possible I had been but a ghost dwelling inside the flesh of what once had been a man all along, contrary to my past vague belief that I was alive and well for some time.
My hands and feet are cold like those of a dead man's. Colors drained from my ghastly cheeks, I move not an inch from the position I have locked myself in on my bed. I stare into the deep black filling my view inside my mind, not looking back at the distant stars once, and let out a final sigh. A heavy, troubled sigh, in which every last drop of the worry, the anguish, the distress, is congealed. My eyes lose the glitter that had been hidden there ever since I first learned to dream in my childhood. I am now even numb to nostalgia. I am left a hollow shell without an opening.
The void calls for me. The splendor of space in my head complies.