Memory of a Mamba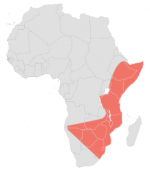 Tue, 10 Jun 2014
I saw a mamba,
A black one,
Looping at pace,
Risking the path,
Being seen
And the stones that would follow.
I remember seeing dead ones
Being dragged around,
Like armless puppets
On wires,
Over gravel roads
Lifelessly chasing happy shoeless legs.
But not this one.
After its tail
Had darted from the trail,
And the lovegrass
had recovered
To its regular jive with the breeze,
I remained still,
Transfixed,
And afraid to cross its path.