Shut Your Mouth Bukowski!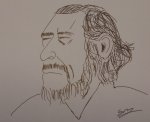 Tue, 15 Apr 2014
Shut your mouth Bukowski,
You old cadaver,
Your curmudgeonly face capsized with rot,
The cocoons and grubs
And bugs and bastards of the earth
Slopping in your orifice.
You make me sick Bukowski,
You piece of shit!
I'd like to drag you by your lips
From your cemetery place
And laugh, and spit
And try on your face and mimic your lyrics
And mistake your mind's lines for my own.
Did you mean what you said Bukowski?
Can a poet not write poetry
Unless he is instantly a poet, Bukowski?
I'd rather not hate you, you old stiff.
I'd rather not see you
As a man no longer man,
As a whore for molesting grubs,
As the home for a maggot,
But it's all I can do since I heard you tell me
To shut my mouth, Bukowski.