"year of Tiger, chimes of silence."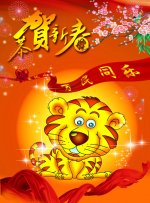 Fri, 12 Feb 2010
this night as she dressed in red, the wee, chinese child looked forward to chinese new year, year of the Tiger. with her little red, round tiger lantern balancing on her paw, she went into the tea room to join her two parents, Mr/Mrs Lao Xian. she was so excited for this special chinese night as it symbolised the birth of Tiger new year.
her mother told her to come kneel to her right for a few moments before the family prepared to leave for the festivities in red square. the girl held her lantern with such pride towards her naturally, dominant yet secretive nation. she loved secrets, too. she held the blood red in hue higher and smiled as she looked and studied the various designs and chinese calligraphy around the lantern. the delicate orange tassle hanging from the base of the lantern swung gently. she ran her fingers through the various threads of silk; it was as if they were silver chimes of silence. the lantern swayed in the light, night breeze in her mind.
a beautiful sight, a beautiful night, a powerful tiger.
© `t. imaan tretchicovmanicova
12feb10