Black Cross (Chapter Eight)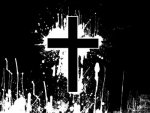 Sun, 22 Apr 2018
Ebony dropped the bin liner next to Jennifer's rucksack and took six steps back, waiting for acknowledgement. The girl was slow to react. Ebony wondered if she'd been asleep. Jennifer was on the bench by the loch, same as the night before, curled into the foetal position. Her eyes were open and red-rimmed, pupils like ink blots, devouring the irides to near nothing. Eventually she sat up, not meeting Ebony's gaze.
"I brought you things," Ebony said.
"Didn't think you'd show up."
"I said I'd try." When Jennifer made no further movement or comment, Ebony stepped forward, crouching on her toes as she rummaged through the contents of the bin liner. She stopped abruptly. "Why did you think I wouldn't come?"
"People say things all the time and never follow them through. Doesn't matter how genuine they seem. It's a bit hit or miss whether they're telling you the truth or a bunch of sweaty bollocks."
"You sound funny," Ebony said.
"Didn't I tell you I was a comedian?"
"Not funny ha-ha. Funny strange." Ebony could smell alcohol again, more pungent than the night before. She spotted a glass bottle nestled amongst the weeds beside the girl's kitchen knife. The atmosphere grew taut and full-bellied between them. "Why are you crying?"
"I'm not."
But even as she denied it, Ebony saw the tears trickling at the corner of Jennifer's eyes, making them appear big and glassy. Ebony wanted to reach out and catch one. They were as curious and as beautiful to her as falling stars. "Yes, you are."
Jennifer made a tsk sound, like an electrical appliance about to short-circuit. "It's the wind," she snapped. "The wind is blowing in my face and making my eyes water. That's all."
"You don't need to be embarrassed or ashamed."
"Yeah, and what the fuck do you know? You've got the emotional range of a wooden plank," she spat.
The words were laced with venom and hit their target with the swiftness of an arrow. Ebony turned, detaching from the hostility as she drifted towards the loch. It was a clear night, air fresher than the cold shower she'd taken to remove the dead boy's blood. Nausea threatened to rise again, but she turned her attention to the surroundings. The moon was low and fat, rippling silver across the inky waters. She picked up a handful of stones, took a moment to recognise their solidity and wet-earth smell before throwing them one by one. Ebony didn't make any effort to skim, just listened as they clapped against the water.
"Look," Jennifer said after a minute. "I'm sorry, okay? I don't know why you're making the effort with me. Honestly, I've got an attitude like a busted arsehole at times."
"Yes, you do."
"What's in the bag anyway?"
 "I can't tell you," Ebony said. "I have to show you."
They returned to the campsite. It looked even more pitiful than the previous night. Jennifer hadn't shown any concern in disposing her rubbish and there were sweetie wrappers, irn bru cans and cigarette ends lying everywhere. Another tent pole was broken and the shelter had almost completely collapsed. Ebony wondered how Jennifer had been able to survive like this and then remembered she'd probably been drunk the entire time.
Jennifer sprawled across the log, hiccupping as Ebony removed the wreaked tent poles and carefully bound them together with duct tape from the bin liner. Before she'd even finished stabilising it, Jennifer had crawled inside.
"Feel free to continue," she said, reappearing with another bottle of wine. "You can't say I'm not a lady. Ladies drink wine."
"Not from the bottle."
Jennifer twisted the lid with the dexterity of a hunter breaking a pigeon's neck. She took a sip and smacked her lips. "Mmm! Morning-piss in colour with notes of charred nectarine skins and shitty corner shop tobacco—but that could just be me. I deserve this—no, I bloody well need it. But, do you know what? I don't give a shit anymore. Every time I open my eyes, I just want to drink. Drink. Drink. Drink." She raised the bottle, toasting to misery and self-destruction and cackled. "This one's for you, Morris! You limp-dicked son-of-a-whore!"
Ebony turned her attention to the circle of stones, removing mounds of ash-black leaves and moss. "You require warmth and food," she said quietly. "Have you eaten today?"
"Yeah. I'm not a child."
"Elaborate, please."
"A couple of soggy Jaffa cakes, a packet of monster munch," Jennifer said.
"That doesn't sound substantial."
"Well, it's not like I can nip round to the Chinese."
"Go to your tent and I'll return with some."
"The takeaways will be closed by now."
"That is irrelevant."
Jennifer continued to regard her sceptically.
"Go on," Ebony said. "Please."
"Fine," the younger girl huffed, climbing inside the tent. "But how long do I have to stay here for?"
"Until I return."
"No tricks?"
"No." Ebony watched as Jennifer switched on the lantern. The wind and rain had curled the blonde hair peeking from underneath her hat. Blonde. Not gold. Not like his. The drinking and smoking hadn't caught up with her, either. On the contrary, she appeared younger in this halo of light. Cheeks unblemished, retaining the roundness of youth. Eyes wide and darting—like a fawn segregated from its herd, sensing the contemplative gaze of a predator. There was a wound on her head. A smell of urine in the air.
"What?" Jennifer said.
"You shouldn't be out here."
"I know. I'm missing Dynasty."
With that, Ebony zipped up the tent. She walked backwards down the path, counting the steps in her head, watching until the light disappeared from existence. And then she turned, settling on the task at hand.  
When she reached the loch, certain that nobody else was around, Ebony removed her parka, carefully folded it and placed it on the bench. The garment had felt abrasive against her skin, containing a coarseness different to the rocks beneath her feet. Synthetic, she reminded herself. She pulled the T-shirt off next, placing it beside the coat.
Out here, in the dark, her skin was the colour of bleached bone. Appeared to carry its own luminosity. Wind stirred her hair, fluttered across her skin. She savoured these sensations. Savoured them because it brought her to the here and now, made her forget about the other part of her. The darkness dwelling inside. One that could neither be cured nor quashed.
Holding onto the embankment, Ebony carefully lowered herself into the loch. The icy water prickled her skin like daggers. But it felt good. It would feel even better when she was engulfed, lost—even for a moment.
And then, with a final breath, which had been born out of habit more than anything else, she let go, sinking to the bottom like a stone.
Jennifer was singing by the time Ebony returned, and didn't appear to hear her approach. Ebony unzipped the tent to find the girl huddled in her sleeping bag, clutching the bottle of wine to her cheek as if it were a teddy bear.
Jennifer's eyes widened when she saw what Ebony was cradling to her chest—two dark-skinned fish. She shrieked as one fell, sliding wetly across the floor of the tent towards her.
"It's a trout, not a piranha," Ebony said.
"How did you kill it?"
"With a rock."
"When you asked if I'd eaten, I thought you were going to come back with a pot noodle or even a lean cuisine. Not this. Get it to fuck," she demanded.
Ebony ignored her and emptied the contents of the bin liner. She'd caught food and now they needed a fire—one for cooking and another to provide heat. She'd searched the densest part of the woodland earlier, collecting anything dry; strips of bark and bundles of pine needles, mounds of tinder fungus, twigs and larger sticks. In the stone circle, about fifteen feet from the tent, Ebony used the smallest pieces for tinder. She broke some of the twigs and placed them around the pile, forming a rough structure of a tipi. Next, she pulled out a 9-volt battery and a mound of steel wool. Ebony removed her parka and sat forward, rubbing the wool against the battery terminals. Eventually, there was ignition. Ebony let the flame grow and placed it amongst the tinder. As the fire grew in strength, she carefully fed it larger sticks and beckoned the shivering girl forward.
Using the kitchen knife, Ebony started to gut the fish.  
"I thought the only things at the bottom of the loch were stolen bikes and shopping trolleys," Jennifer piped up. "How'd you catch them?"
"I have my ways."
"Yeah, I get that, but—" Jennifer let out yet another shriek as Ebony hurled the fish guts towards her.
"Throw them into the flames, please."
"I don't want to," Jennifer squirmed.
Ebony looked over her shoulder, watching as the girl tried to pick up the entrails with a couple of sticks. "You must. The remains will attract predators."
"Like dirty old men?"
"Animals.'
There was a pop, a sizzle as the remains were consumed by the flames.
A moment later and Ebony could feel the girl hovering behind her. "What now?"
"How'd you do that so quickly?" Jennifer asked. 
"Practice," Ebony said, twisting the knife here and there, using her long fingers to push out the strips of bones.
"Were you a girl guide or something?"
"Something."
"Do you camp a lot then?"
"Not as frequently as I once did."
"How's that?"
"Survival," Ebony said. "It used to be all that I knew. But then I traded my old skills for new ones."
"Aye, and I'm still trying to master the art of not pissing myself while I'm plastered," Jennifer said, swigging her wine.
Ebony dug a small pit with her hands, surrounded it with stones and made a smaller fire within. Once reduced to embers, Ebony ripped up two large strips of damp moss and placed the fish between them, soil-side out. She allowed this to steam on the heat, turning sporadically. As soon as the skin pulled away easily, revealing the cooked flesh underneath, Ebony placed it before Jennifer. If the girl was remotely disgusted by the idea of consuming food from what had previously served as the woodland floor, she did not show it.
"Thank you," Jennifer said.
Ebony nodded and joined her by the larger fire, sitting on the opposite side. She extended her bare arms and spread her fingers apart, savouring the warmth much in the same way as she had enjoyed the coldness of the water as it swelled across her skin.
"Take this."
Ebony looked up. Jennifer had finished her meal and was holding the sleeping bag, about to place it over Ebony's shoulders.
"Don't," Ebony said.
"Don't what?"
"Don't touch. Please."
A pinch appeared between Jennifer's perfectly shaped eyebrows. "You're freezing."
"I'm fine."
"You've been looking after me all night. Take the bloody thing."
Ebony tried a different angle. "I'm covered in fish entrails and have been swimming in the loch."
Jennifer shrugged. "Whatever."
And then it started to rain. A light shower turned torrential within seconds. The fire hissed, flames whipping to a frenzy as it quickly died.
Jennifer staggered to the tent as quickly as she could and then realised she'd left the sleeping bag outside. She swore, picked up the soggy mass and turned to Ebony. "Come on!" she shouted. "Get inside!"
But Ebony couldn't. Not in such a confined space. Not without the barest hint of distraction available. The darkness would emerge. The girl would die. She glanced to the path, wondering if she should run. Jennifer was rustling around inside the tent and Ebony pulled her wet parka on, slowly backing away.
"Shit!" Jennifer cried. "There's a fucking leak!"
More commotion from inside as the girl fell to the side, breaking the tent poke Ebony had recently fixed. The structure fell to the ground. Jennifer crawled out, wine bottle still in hand.
"Do you have a friend you can stay with?" Ebony said.
"They all have boyfriends and kids." The wind was picking up now, rustling the branches around them. A tin can came clattering into the clearing and Jennifer shouted to be heard over the racket. "And I'm not going to theirs at this time of the morning to wake them all up, moaning about how shit my boyfriend is!"
"You have to go somewhere."
Jennifer shrugged.
"If you don't, you'll freeze to death. It'll be sad."
"There's no need to be so sarcastic!"
"I'm not."
"Ebony, there's only one—"
"No."
"Hear me out!"
But it felt strange to hear someone else say her name—well, that name. It brought an ache to her chest. Part of Ebony wanted to scream, the other part wanted to curl up on the ground and disappear. The desire was quickly lost as the wind howled, lashing her hair about.
"It's only until the rain stops," Jennifer said.
No.
But then she got an image of the girl, soaking wet, huddled somewhere in the dark and rain. Alone. Drunk and upset. She was conflicted. If she said no, Jennifer could end up getting hypothermia, especially if she passed out.
"Fine," Ebony said. "You can come."