Black Cross (Chapter Five)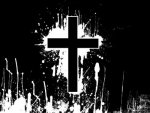 Sun, 18 Feb 2018
Ebony stalked through frost-crusted grassland. Each step biting into the earth with a crunch. Bare footed, she was dressed only in the bloodstained T-shirt and a parka. Hood up. Zipped just past the  scar tissue circling her throat. She raised heavy eyes and stopped in her tracks. The plain around her seemed infinite. Thick fog had descended, choking the village. But not enough to snuff out them.
A cacophony of wild laughter and voices suddenly rose from behind. Fainter with space. But no. Not enough. Nowhere near enough.  
Her stomach churned. Pain continued to flare throughout, flashing behind her eyes. She had a sickening urge to rip the meat from her very bones. To turn back. To kill. To see this miserable place burn to cinders. Instead she pressed onwards, coming across a swing park with an adjoining climbing frame—an ugly snarl of metal and graffiti. Bottles of Buckfast and cigarette ends littered the ground. She'd seen teenagers here before from the upstairs window, smoking and drinking and kissing and fumbling. Now there was only vestiges of their presence.
Still not enough.
She pushed colourless legs into a run.
Grassland became coarser, gave way to woodland. She neglected the paths and cut through the trees. The air smelled wet and woodsy. Ground carpeted with pine needles. Eventually she reached a loch. Ebony crouched down at the water's edge and vomited again. Black sludge landed wetly, steaming in the air. Why was she so ill?
"I don't believe it. You're a pisshead, aren't you?"
The voice had come from nowhere. Ebony turned around to find a girl sitting cross-legged on a bench, watching her. She was wearing a cherry-red jacket, a furry hat, black jeans and boots. There was a paper bag on her lap and sweetie wrappers were scattered around her like confetti. She was also holding a kitchen knife.   
"Great," the girl continued, eyes narrowed with distaste. "Doesn't matter where I go. I cannot catch a fucking break."
Ebony turned back to the loch and the woods lurking beyond. She was planning on ignoring the stranger, but found herself asking, "What are you doing out here?"
"Minding my own business, that's what."
"I see."
"I'm not doing anything bad," the girl said. "This knife is for the rapist. Yeah, a young girl was raped along here last Wednesday. They didn't catch the guy, so I thought I'd come along and lure the bastard out. Stab him in the balls."
"Have you ever stabbed someone before?"
"No, but it's not like there's an art to it."
Ebony picked at a bit of dried blood underneath her fingernail. When she spoke, her voice was as cold as the frost glittering around them: "That depends. Do you wish the man in question to suffer? There's an art to all things, and suffering is the most intricate of all."
The girl shifted.
Ebony wasn't convinced by her bravado in the slightest. She could smell blood. When she stepped closer, she saw that the girl's sleeve was rolled up and there were cuts across her arm.
"Don't look at me," the girl said, covering up. "I don't need you to judge me."
"I'm not."
"Yeah, whatever."
The stranger broke eye contact, examining the laces on her boots. Ebony's gaze lingered and then she turned away. She picked up a stone and threw it into the loch. It landed with a deep plunk.
"Can you skim?" the girl asked.
"What?"
"Can you—" The girl sighed and made a show of rolling her eyes. She joined Ebony, grabbed a flat stone, and threw it with a flick of her wrist. Ebony watched as it bounded across the surface before disappearing into the water.
"Five times," Ebony said.
"I've done seven before."
"Incredible."
"There's no need to be sarcastic."
"Do it again, please."
"You're being totally serious?"
"Yes."  
The girl chuckled and shook her head, picking up another stone. "It's not rocket science or anything."
Ebony watched closely and tried to copy her, but she may as well have hurled a brick.
"You need to pick the right one," the girl said. "Try this."
Ebony looked down to see a smooth disk-shaped pebble in the stranger's hand. Their skin was similarly pale. Hesitantly, Ebony reached out and tried again. This time the stone skimmed across the surface twice before disappearing.
"Don't I know you from somewhere?" the girl said.
"No."
"Nah, I'm sure I do." The girl twirled a strand of hair around her finger as she gazed at Ebony thoughtfully. The way she was squinting suggested she needed glasses. "Didn't you move into sixty-four Park Road recently?"
Ebony nodded.
"We're neighbours then. I'm Jennifer. I live across the street with my boyfriend. I've seen you at the window a few times. What's your name?"
Ebony didn't reply. She was shocked to hear that this girl—this girl who looked no older than fifteen or sixteen—was her neighbour. She'd expected someone older, someone with sallow skin, deep-set eyes and a smoker's cough. Ebony suddenly grew very interested in the rocks on the ground. She crouched down, examining them closely, hoping the girl would take the hint and kindly leave her alone.
"Never mind then," Jennifer said huffily, returning to the bench.
"Ebony," she said. "My name is Ebony." It was the most information she'd given a stranger for a long time. She didn't know what else to say or even why she'd disclosed the information—uttering the words felt neither good nor bad.  
"Are you from here?" Jennifer pressed.
"No."
"I'm sorry," Jennifer said. "But why the fuck would you choose to come here? I mean, if Hell was a place on earth, and that place had an arsehole, then I'm pretty sure this would be it. So, welcome to Hell's Arsehole!"  
Ebony wrapped her arms around her middle and looked at her feet. She didn't like feeling as if she'd said or done something stupid.  
"I'm sorry," Jennifer said. "I didn't mean to offend or anything. Honest to God, sometimes I think my foot lives in my mouth."
"You didn't offend me."
"Do you want a seat then?"
"No."
"How about a sweet? They're rhubarb and custard."
"I will sit down provided you put the knife away."
Jennifer placed the knife on the ground. She scooted across to the opposite side of the bench, tucking her knees under her chin and looked at Ebony expectantly. "What's the matter, are you afraid of me?"
"A little bit."
"Don't be. I'm all mouth and no bite."
"I'm all bite."
"Then I should be afraid of you."
Ebony approached the bench slowly, sitting on the very edge of. Aside from the rather sickly scent of boiled sweets, the girl smelled of cigarettes, damp earth and something else that made her nostrils twinge. They sat in silence again.
"You don't talk much," Jennifer observed. She picked up a bottle from the side of the bench and took a large drink. That was the other smell: alcohol.
"No."
"Do you want to see something?"   
"What?"
"I can't tell you. I have to show you." Jennifer stood up, pulling a rucksack from the bushes and shrugging it over her shoulders. She picked up the kitchen knife. With her furry hat and baby face, she looked a peculiar combination of innocent and deadly. "But, if I do, you have to promise not to tell anyone else."
Ebony thought she could do this and nodded.
"No, you have to say it."
"Why?"
"You just do."
"I promise," Ebony said.
***
They walked deeper into the woods. Ebony kept a careful distance between herself and Jennifer, who wasn't exactly steady on her feet. The path they followed was barely visible; nature had crept back some time ago. Thorn bushes tugged at Ebony's parka, clawing at her legs. She wondered how Jennifer had ever discovered whatever it was she was about to show her.
It was supposed to be a campsite. There was a tent that sagged in the middle, a log serving as a seat and a stone circle that had probably been used for campfires at some point. The whole place was littered with rubbish and old beer cans.
"Come on," Jennifer said, unzipping the tent and disappearing inside. Ebony wasn't going to join her, but out of curiosity, she peered inside. Even before Jennifer had switched the lantern on, she could make out what was inside: a sleeping bag, a Walkman, a torch, a handheld television and a carrier bag loaded with crisps and sweets.
Jennifer sat in the middle, lantern in lap. She looked proud of her handiwork despite the fact that it was nothing short of abysmal. "What do you think?"
"I think it's the worst camp I've ever seen," Ebony said honestly.  
"Like you could do any better."
"I could."
"I smell bullshit."
"Yes," Ebony said, dragging in a peculiar scent she didn't recognise. "I can smell something unpleasant, but I don't think it's faecal matter."
"Nobody comes here anymore. You're the only one who knows my whereabouts," Jennifer said. "I hid the camping equipment here ages ago. It's my safe space. You can't breathe a word of it to anybody. If you do, I'll be up shit creek."
"Elaborate?"
Jennifer scrunched up her face as if tasting something repugnant. "I don't want to talk about it. Not yet. I need to think about what I'm going to do next." She left the tent to retrieve the bottle from her rucksack and drank deeply. "I'm not very good at this," Jennifer continued, words slurred. "This survival thing. Can you really do better?"
"I can't do worse," Ebony replied.
"What would you do?"
"I'd improve the shelter, the cooking area, the surroundings. Everything. And then I'd fortify the space. Nothing too complicated. I'd dig pits with my hands, use wire and bells to alert me to trespassers."
"I don't have any wire or bells," Jennifer said.
"Then I'd use shoelaces with tin cans and stones."
"Show me?"
"Maybe," Ebony said. "Tomorrow. We'll see." It was the best she could offer. Without another word, she left the campsite, making her way back through the woods. As the distance between her and the girl grew, Ebony was pleased that she'd refrained from hurting or killing her—this time.