Black Cross (Chapter Four)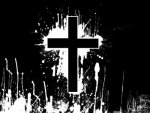 Tue, 13 Feb 2018
Ebony didn't know how long she'd been singing for. She'd started with Hushaby Mountain and had just finished with a song she knew only as Jacob's Theme. Her voice sounded different in this place; broken and shrill, more fitting for wounded animal than woman-girl. When the last note left her lips, a dense silence filled its place. The silence was unbearable; it spoke of many things, things she didn't want to acknowledge.
But Ebony had no choice.
She opened her eyes.
They were lying on the floorboards, cradled into each other like lovers caught in a hail of gunfire. Tommy's eyes were a pair of cloudy marbles, holding not a glimmer of the young man who'd invited her to Christmas dinner mere hours ago. The power drill lay by his side, concealed with gore and brain matter. One side of his neck a chewed mass of flesh.
Ebony hadn't wanted to kill him. Hadn't wanted to kill anyone. But when Tommy had started talking about things, she had started to think and before she could put a stop to it, she had started to—
What? What exactly?
She raised a hand, crimson and sticky, and brushed Tommy's cheek. Her eyes continued to rest upon his. Searching. Hoping. Finding nothing.
"I don't feel as you do," she said, voice as hollow as the dead boy staring back.
Behind the iron-rich smell of blood, she could detect the lightly-spiced scent of his aftershave, the fabric softener his mother had probably used. Tommy had a life enriched with loved ones, brimming with possibilities and she'd stolen it. Quashed it with the simplicity of stepping on an insect.
Ebony turned on to her back, staring at the phlegm-coloured ceiling. She laced her fingers through his. Three of his fingers were missing, reduced to bloody stumps. Amongst the carnage were fangs of glass and eighty-eight pounds and twenty-four pence worth of change scattered around them.
Should never have answered the door—
A crash from outside.
Ebony clenched the meat of Tommy's forearm, bracing herself for what was about to unfold. The couple living across the street were always causing some kind of disruption. If it wasn't parties lasting all night, it would be fights. Most fights were invariably dragged outside and this night was no different.  
"I'm not staying in this house any longer."
"Don't be daft."
"I'm serious!"
"Where are you going to go then, eh?"
"I'll know when I get there."
Ebony had never caught a glimpse of her neighbours before, had never been remotely interested, but had an image of a bedraggled couple in their late thirties who'd smoked and drank their way throughout their lives. The man appeared to be involved in some dubious things, but she wasn't sure what exactly. A door slammed shut. Street light peeked through the moth-eaten curtains, casting pinches of light across the walls. Like stars, Ebony thought. Look up at the stars and you could be anywhere. And then she cuddled into Tommy and tried to fall asleep.
***
She had never ventured down to the basement before. Had a tendency to avoid underground spaces whenever possible.
Ebony switched the light on.
It was like a photoflash bomb had gone off. Everything was washed from existence in a glare of white light and there was a high-pitched scream in her head. Ebony clenched teeth until the moment passed. She felt nauseous and shaky—which wasn't normal for her by any means, but she forced herself to concentrate on the task at hand.    
Dark patches covered the walls of the basement. At first glance, Ebony thought the mould had spread down here, too. But then she stepped closer. Photographs of naked women surrounded her. Most were tied up; others gagged and blindfolded. Great care had been taken to posing them in the most degrading way possible. None looked like they were in any stage of enjoyment. Only pain.
The images neither aroused nor disgusted Ebony. She continued her exploration of the basement dejectedly.
There were several cardboard boxes, a lamp and a mattress in the corner. She opened two of the boxes, discovering video cassettes with female names written on them. In another there was a camcorder, a variety of clamps and a bottle of something called Wet 'n' Wild. Ebony didn't feel inclined to search any further, so she pushed all the boxes to one side, leaving a space from the staircase directly to the mattress.
She went upstairs to the ground floor and took a bunch of old bed sheets from the closet and returned to the sitting room, standing over Tommy's body.
There were no dark thoughts, no spools of smoke this time. Ebony removed his wallet and looked through his identity cards. Tommy Hunter was seventeen, lived on a local farm and had a driving license. He did work for numerous charities on behalf of Johnson Memorial and was also a blood donor. He had pictures too. There was one taken at some kind of party, a family reunion perhaps. Another on a dirt bike, a graduation and one with a red-headed girl.
They looked happy. They looked in love.
("Do you even know what love is?")
Ebony's hands started to tremble.
She quickly placed the wallet and power drill underneath the kitchen sink and wrapped the body with the bed sheets. When she was finished, she dragged him down to the basement and placed him upon the mattress.
She stared at him for a bit, not quite sure what to do and then she crouched down. "I'm sorry," she said. "I know that doesn't mean much now, but I am. When I can think more clearly, I'll see that you are returned to your family. I will do right by you even if it means the end of my days."
***  
Ebony binned the bits of broken glass and filled a basin with soapy water. She proceeded to collect and wash and dry all of her coins. She counted out eighty-seven pounds and eighty-five pence, meaning she was still missing thirty-nine pence. Just to be certain, she counted out the money for a second and third time, but still reached the same figure.
She searched behind the couch, amongst the bleeding-rust tools and found a further nineteen pence. Ebony couldn't stop until she'd retrieved all of the missing coins. After spending a further hour and a half looking, she found ten pence wedged at the bottom of the skirting board. She decided to cut her losses for now and placed all the money in an old shoebox, pushing it underneath the couch.
Her hand brushed against something else she'd hidden there.
Ebony flinched as if scalded. Push everything away, she told herself. Pretend it doesn't exist if you have to.
She turned her attention to the bloodstains. Tried to scrub them from the walls and floorboards as best she could, changing the water no less than twenty times, covering the most offending spot with the threadbare rug. Most of her belongings were stuffed in the pockets of an old coat upstairs. Only now did she take them out, arranging and rearranging them several times. When she was finished, she decided to have a shower.
The water felt good as it ran down her back, and she found herself wishing it could wash away more than the blood and dirt. As she turned to the faucet, there was a sharp pain in her gut and another flash.
What's happening now?
She closed her eyes. Stumbled. Tried to catch herself but fell, clattering against the tiles. The pain intensified. Something was twisting around her innards. Not like a knife, she realised. Like serpents, a swell of serpents. She retched, hands outstretched. Not just bowing to the pain but absolutely gripped by it. Bitterness filled her mouth. She opened her eyes to see clots of dark blood snake down the plughole.
By the time she was able to get out of the shower, there was a party in full swing across the road. Ebony wiped the blood and bile from her mouth. Staggered. She could feel the dance music vibrating throughout the house, rumbling underneath her feet. There was a group of men standing in the front garden with cans of beer, their cigarettes winking in the dark. One of them was chubby with a bald patch and a chequered shirt, opened at the collar to reveal a chest that looked more like a rug. He caught sight of Ebony and wolf-whistled. She hadn't even realised she was standing at the window naked.
"Come out and join the party, hen!"
"We don't bite!"
"Nice tits!"
Ebony closed the curtains and rubbed her eyes. She had to get out of this house.