Black Cross (Chapter Six)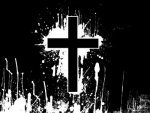 Sun, 18 Feb 2018
Jennifer picked up the receiver and put twenty pence into the telephone box. Her fingers were icicles and it was painful dragging the cold air into her lungs. She pressed the buttons carefully, wondering if Malcolm had changed the number again. Jennifer hadn't tried calling them in a while, but if he had, it would only make it the umpteenth time this year.
Maybe I should try Gwen first? She hesitated over pressing the remaining digits, but the notion vanished as quickly as it appeared. Please ring.  
The telephone box was around the corner from Main Street, beside the dilapidated husk that had previously served as Fuller's petrol station and garage. She'd had to walk an extra couple of miles through the surrounding farmland to make sure she wouldn't bump into Tony or his lads along the way. Not that it was likely. It was only after nine o'clock in the morning and most of them would probably be sleeping off their drunken stupor until midday. But Jennifer didn't feel like taking any chances all the same, so the longer route had been the only route.   
"Come on. Please go through."
The telephone box smelled of piss. Chewing gum and some other marks, which Jennifer didn't want to spend too much time thinking about, stained the floor. She put the receiver down and covered her hands with her sleeves before putting it to her ear again.
It started to ring.
She glanced outside, making sure nobody else was walking past. She had a clear image of Malcolm sitting in his favourite armchair, shovelling his fried breakfast down his throat and watching Lorraine Kelly on Good Morning Britain with her see-through blouse, letting the phone ring out.
Jennifer was about to give up.
"Hello," said a soft voice.
"Mum? Mum, is that you?!"
"Who is this?"
"Mum, it's me. It's Jenny. I know you said I wasn't to call you, but it's been over four months now, and I just wanted to see how you were doing. So, how're things? How's Malcolm? Have you two been able to get away to Benidorm again? It's bloody freezing up here…" Jennifer gave a laugh that sounded nothing like her own. "Mum? Mum, are you there?"
"Jenny," her mum breathed and she sounded so weary that Jennifer wished she was able to reach out and give her a hug. But then her voice became steel, "We agreed you wouldn't contact us. I cannot do this. I'm not giving you anymore money."
"But I'm not phoning for money, Mum. I told you, I just wanted to know how you're getting on."
"If Malcolm finds out that we're even speaking, he'll leave me, Jenny." The firmness wasn't long in leaving her voice. She sounded like a ghost now, something so brittle and another world away.
"This is down to him, is it?"
"Don't blame him. Don't ever blame him."
"Mum, I didn't phone for an argument—"
"I don't suppose you're in any state to care. Will you even remember this conversation tomorrow? I guess not. You're on your own, Jenny. And if you so much as show up at my door, I'll phone the police."
Jennifer clenched the phone. "Mum, can I just tell you one thing?"
"I mean it."
"Just one thing."
"I've had enough—"
"Will you just listen?" 
"What?"
"Mum, I love you."
The phone went dead.
Jennifer swore, slamming the receiver in its cradle.
There was nothing else for it. She fed more coins into the slot and tried phoning her older sister. The call went straight to the answering machine. No surprises there.
"Gwen, it's Jennifer. I'm not phoning for money or a kidney or anything else. I just—I just really need someone to talk to. I'm in a really bad place. I know, what else is new, right? If you're there, please pick up the phone. Pretty please? Even if it's just for a minute or two. I just need to speak to you. I'm all on my own…" She waited, biting her lip to stop it from trembling and then she snapped, "Okay then. Just forget I called. Maybe I'll see you sometime before Christmas. Who knows? At this rate, maybe not…"
Jennifer hung up the receiver again. This had been her very last lifeline, the only way out to explore. She was cut off from everything aside from this fucking place. Rage, fear, frustration—all that kind of useless shit—came bubbling to the surface and she screamed. Screamed until her throat was raw and the sound broke with the sheer weight of everything behind it. Then she was punching and kicking the telephone box. Exhausted, she slumped to the ground.
After everything, you should be stronger now, she told herself. But instead you're just getting weaker. More pathetic. This time next year, what are you going to be like? What's going to be left? And then, amongst all her self-pity, another voice slithered into play: You know what would make things better, right? Same thing that makes everything all right. Admit it, Jenny, you miss it. Doesn't matter how long you go, part of you would still do anything for a taste, a nip. That's right. A nip of the good, sweet stuff.
Jennifer gripped the knife wounds on her arm. Renewed agony unable to sever the thoughts now swirling in her head. Maybe she should just go back to Tony and accept what was going to happen now that Morris was around. After all, wasn't she just delaying the inevitable? She could say she'd made a mistake by running away—a stupid mistake. She'd cook up a big dinner. A feast. Tony and the lads, they'd welcome her back. No questions asked. It could all be so simple. No more struggling.
Shivering, Jennifer took off her rucksack and unzipped it, pulling out her purse. There was a ten pound note inside, crinkled with dampness.
She could take the plunge herself.