Black Cross (Chapter Three)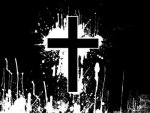 Wed, 31 Jan 2018
Jennifer limped towards the platform, clothes rumpled and torn. Eyes itchy. Cheeks hot and glistening. There was a screaming pain at the back of her throat and in a variety of other places she didn't want to think about. She'd had to wait thirty-odd minutes for another train, but didn't dare leave the toilet cubicle once the junkies left.
She dragged the rucksack across the floor, other hand pressed against her abdomen. Her hood was up, but even so, she could feel everyone watching her, could hear them murmuring. Judgement so thick it was almost suffocating.   
"Miss?" A man tried to stop her. "Are you okay?"
She ignored him, fighting the urge to yell and lash out, hoping he wouldn't touch her. She imagined crumbling with so much as a brush of kindness.
It was almost quarter to seven. Tony would be back sometime after eight o'clock, expecting dinner on the table. If he saw her like this—had any inkling whatsoever—the game would be up. Freedom would be restricted. His lads would keep an eye on everywhere she went, everyone she spoke to, circling like a pack of wolves.  
She found a couple of empty seats on the train, placed the rucksack on the outer one so nobody could join her.
The junkies had said they weren't going to hurt her. They were only going to take the drugs and money they found. Jennifer had kept it together when the pair had searched through her bag and clothes, but as soon as the man forced her legs apart Jennifer had exploded with rage.
"Get off me, you bastards!"
"Easy, love." The man said.
"I am not your love."
The woman was restraining Jennifer at this point. "It's going to be alright, baby," she said softly, planting a kiss on her wet cheek. "We have to do this, okay? You know how it is. Please, please—don't struggle, baby. Carl's just going to see if you're crutching anything. That's all."
That's all.
Jennifer whimpered as Carl yanked down her jeans and underwear, spitting on his hands. She screwed her eyes shut. Face contorting so hard she felt her lips split. This wasn't happening—this couldn't be happening. No, please stop. Please. You can't make me go through this. Not after everything else. I can't—
Carl had a finger inside her. Mumbled something about how tight she was. Anger swam up, broiling blood. She lashed out, boot connecting with balls. Carl went red-faced before sinking to the floor. Bastard. Filthy fucking needle-worshiping bastard. She made for the door. Handle mere inches away. And then she was yanked backwards.
"Let me go!" Jennifer cried.
"Shut up!" the woman snarled, punching her. "Just shut up!"
By this time Carl had recovered somewhat and they resumed their search, pinning her to the cold, piss-stained floor.
When they realised she had nothing worth taking, they kicked her and ran. Jennifer had lay there, crying hot tears of anger. Hatred searing more so than the pain. Hatred for the junkies. Hatred for herself because, in her eyes, she'd been too weak to stop them.
She knew how desperate junkies got, how their minds became warped by their addiction and if there was even the slightest chance they could get their hands on something, they'd take it. It didn't matter who they exploited—friends, family or perfect strangers.   
A whistle was blown and the train left the station. Jennifer leaned her head against the window. It didn't feel like she was going to develop any bruises across her face. She could hide the rest of her injuries, could explain them away with a few well-placed lies if she needed to.
It took over an hour to reach Chapel and another thirty minutes from there to Blackcross on the bus. She lit a cigarette as soon as she was dropped off on Main Street. The house she shared with Tony was at the bottom of Park Road, located along the fringes of Blackcross, near the woods and the loch. 
She arrived to find the television on, whole place lit up like the Blackpool illuminations, but Tony wasn't in. Jennifer couldn't afford to waste any time. She threw her rucksack into the cupboard underneath the staircase, hiding it amongst lavender-scented laundry where her boyfriend wouldn't find it. The pain between her legs was excruciating. She hobbled upstairs and had a shower, washing every inch of herself, as deep as she possibly could despite the raw agony. She was grateful to find that she wasn't bleeding. Crutching. She'd heard of girls doing such a thing in prison, had met a couple in the sinflat. Maybe one of them had been the woman at the train station.
It was here that the tears came again, but she allowed them this time. Once the water was switched off, she wouldn't be shedding any more. The performance would commence. Jennifer Darling—sassy, fun and foul-mouthed—would take centre stage.
Tony still wasn't home by the time she returned downstairs. Jennifer helped herself to a whiskey glass of vodka, used it to chase down a couple of painkillers. Then she filled a water bottle and curled up on the couch, watching the images on the television dejectedly.
***
Jennifer hadn't intended to fall asleep. The VCR said it was after ten o'clock. Fuck. She went through to the kitchen, put the oven on and quickly started to peel baby potatoes. Slivers of skin adorned the worktop in record time. Peeling knife working like an extension of her. Then a key turned in the front door. Jennifer braced herself.
"There she is."
Tony's voice was the low rumble of a four-by-four going over a gravel path. Jennifer tried not to wince as his arms appeared python-like around her torso. He kissed the top of her head and rested his bristly cheek against hers.
She could see their reflection in the window; his tall, muscular frame engulfing hers. Face unreadable.
"Where else would I be?" she said.
"Bit touchy tonight, aren't we, pet?"
She didn't respond.
"So, where were you earlier?"
She froze. He had been home before her.
"Out for a walk," she replied.
"You're always walking."
She untangled herself from him and went to the washing machine, unable to meet his eye. The drum was empty. She'd put a load of washing on this morning and looked at the radiators, but they were also empty. She tried not to show the relief on her face. Housework. A swift deflection. She could flip the situation around, bring him onto her battlefield. "Tony, I thought you were going to put the clothes out?"
"I did."
"Where?"
He gestured to the window.
She made a show of rolling her eyes, opened the back door and stalked across the grass. He followed her, stopping at the door.
"The clothes horse, Tony. You put them on the clothes horse."
"A what?"
"Never mind," Jennifer said, yanking them down. "This is exactly as I like them. Stiff as a board and covered in bird shit."
He laughed.
"I'm glad you find it so funny."
It was true. Every time she put her washing out, Tobias Grey, a middle-aged man who lived across the back, would purposely let his racing pigeons loose. Everything would get splattered in sight. She'd taken the matter up with Elma, his wife, but that had only made things worse. It didn't matter how amicable Jennifer was. They were determined to make everything as difficult for her as possible.
"You won't be laughing tomorrow," she said. "You're the one who's going to have to go to work in your bare arse."
"Good job I have a nice arse, then."
She pushed past him and hurled the clothes back inside the washing machine.
"Why it's nice to see you too, little darling. How was work, Tony? Yeah, great as it always is, thank you for asking, ma cherie." He grabbed a can of Budweiser from the fridge, took a swig.
"How was work, Tony?"
"Same shit, different day." He belched. "Look, forget about the washing, Jen. Just come through and sit with me."
"I've got dinner to make."
"You haven't made it yet?"
"I'm on it."
"You're losing your touch."
He was goading her but she wouldn't take the bait. Silence followed. Jennifer could feel herself being studied as he drank his beer.
She'd avoided eye contact with Tony, worried that guilt and misery were written across her face, but looked at him now. Everything about twenty-five-year-old Thomas Wade was chocolate and honey. His dark eyebrows gave an intense, often hard look to brown eyes. He was naturally tanned and his temperament could go from syrupy sweet to dark and bitter within a matter of seconds. He'd been working as a care assistant at Thornrow nursing home for the past three months or so and despised every minute of it. When you got to the stage where you couldn't even wipe your arse, as he'd put it, it was time to call it quits. Time to meet the Reaper, little darling.
He drained the last of his beer and reached for another, enquired how her day had gone. Good, she always said. Housework, mostly. The lie slipped out easily. Jennifer had always been good at telling stories and over the last few months she'd really had the opportunity to hone her skills and become a fantastic liar.
Tony sat at the kitchen table, and pulled her towards him, kissing her on the mouth. She could taste beer on him but it wasn't unpleasant. "I'm sorry about the clothes," he said.
"Since when did you care about clothes?"
"True. I like us better without them."
"You are so smooth."
He pulled her on to his lap. She grimaced against his lips, body aching, but he took it as an ache of need. Tony's hands found her hair. She knew where this was going, could already feel his erection pressing into her thigh. She pulled away.
"Not tonight, Tony."
"No?"
"Period."
"Okay." He kissed her again. "So, what are we having for dinner then?"
"leftover roast."
"Oh, lady. You know how to spoil your man."  
***
Tony was normally a man of few words, but he chatted throughout the meal, embodied with an energy he usually reserved for his lads. As it turned out, he had gone to the pub after dropping off his work bag earlier. The lads, as he referred to them, were a motley crew of thugs, drunks and fools. More like family, they'd grown up together. The Tavern was their pub of choice. Jennifer didn't feel like eating and drank vodka mixed with Irn Bru, half-listening as he filled her in about the latest escapades.  
"So, after Darren discovered that Charlene had been cheating on him with that young lad that works at the corner shop—you know, that arrogant Polish git with spiky hair—he filled all the locks in her house with glue. I told him he shouldn't have done it, but then again, I suppose Charlene was asking for trouble. When Darren cheated on her the second time, she stole that mutt of his and tried to sell it to the Chinese takeaway."
"Tony—"
"Okay, pet. I get the hint. I won't mention Charlene." 
She shifted, pressing the water bottle against her stomach.
Tony pulled out a packet of Carlton cigarettes from his back pocket. He lit one on the cooker and didn't return to his chair. "I've got something to tell you, Jen."
Something told her he'd been building up to this. "What?"
"I don't know how you'll react."
"Just tell me."
Tony ran a hand through mahogany-coloured hair, sucking in a deep breath. "Morris is getting out."
And, just like that, Jennifer felt the foundations of her little world shatter. She didn't know what to think or what to say. Eventually she managed to utter one word: "When?"
"This weekend." Now that he'd finally said it, Tony was unable to contain his excitement. She could hear it in his voice, could see it gleaming in his eyes. "He phoned earlier. I haven't heard from him in almost a year and then he calls out of the blue, saying how he's done his time and now he's coming home. It'll be great, Jen. The whole family back together. We're going to have to throw a party, the best one yet."
"No, Tony."
"What do you mean?"
"I can't—"
"Come on, you're better now. We're better now."
She looked at him, standing there in his nursing home scrubs, thinking of all the times he'd come back covered in piss and shit, and she knew—knew with every fibre of her fucking being—that things would not continue as they were. The past would come seeping back with a smile on its face, slowly poisoning everything they'd achieved.
"We can't risk it," she said.
"Jen, look at everything I've fucking done—everything has been for you! Do you think I've worked so hard just to throw everything back into the fucking gutter?" He pinched the bridge of his nose, his trying-to-keep-it-together gesture. "You're better," he breathed.
"We don't know that."
"You're being difficult."
"I'm being sensible," she retorted.
"Morris said you'd be like this. He knew. The guy is coming out of prison and you have to act like this. Everything has to be about you."
"Tony, please." She reached towards him, hating the weakness in her voice. But she had to make him realise how important this was.
Tony stepped away. "You're nothing but a selfish bitch sometimes," he snarled.
"Please." She tried to hold him.
"Don't." He put a hand up to push her away, maybe more forcibly than he'd intended, and Jennifer fell backwards, landing against the cooker.   
A firework exploded inside her head and she could taste blood.
So, she thought. This is how it ends.