Black Cross (Chapter Two)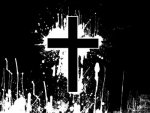 Wed, 24 Jan 2018
Glasgow,
21st November, 1987
The train sputtered through the underground like a runaway shopping trolley, making Jennifer Darling's teeth rattle about in her head. There was a strange smell down here, too. A garbage-sweet stench of people crammed together, moistening the air.
Eau de Working-Class Failure, Jennifer thought absently, picking at the stuffing in her seat. Well, it was true. Most of the passengers coming back this way had either been to the Employment Centre or Salvation Army or some other place that made you feel like slicing your wrists. Herself included. She moved about, trying to make herself as small as possible. The man sitting opposite, a homeless person judging by his wind-savaged beard and soup-stained clothing, hadn't stopped staring at her since she'd gotten on at St George's Cross. His hands were clasped. Knuckles bleached. He was mumbling a passage from the Bible:
"Therefore, I will make the heavens tremble; and the earth will shake from its place at the wrath of the Lord Almighty, in the day of his burning anger. Like a hunted gazelle, like sheep without a shepherd, each will return to his own people, each will flee to his native land. Whoever is captured will be thrust through; all who are caught will fall by the sword. Their infants will be dashed to pieces before their eyes; their houses will be looted and their wives ravished…"
His preaching was drowned out as the train reached its next stop. Jennifer rested her head against the window. The underground was never the favourite part of her journey through Glasgow. Regardless of destination, all she found was scrutiny and rejection. She tried not to care. Her eyes were stinging, lids heavy with fatigue. Shirt collar felt like a noose around her neck. Although her mind was foggy, one question managed to float to the surface: What am I going to do now?
She closed her eyes, wishing she could be somewhere else and under an entirely different set of circumstances. She had ventured out—scraping the very bottom of the barrel—and had succeeded in gaining nothing. Tony would start to suspect that she was up to something. Which she was, but the silly git always jumped to the most extreme conclusion possible.
A hand formed around her thigh.
Jennifer opened her eyes to find the homeless man's face mere inches from hers. She could smell vodka on his breath, could see the milky cataracts in his eyes.
"Do you believe in our Lord?" he said.
"Wholeheartedly."
"He died for your sins."
"Then I better make it worth his while." She turned away, blocking out the man, blocking out everything apart from the chattering going on inside her head.  
The interview room had been almost clinical, a place so spotlessly clean and stinking of disinfectant that it made Jennifer feel like she was crawling with germs. It should have been the first clue she was completely out of her depth, but of course she ignored it and the rest that followed.
The boss man cleared his throat. "You don't have any qualifications."
"No."
"And you don't have any experience."
"No."
They were statements not questions, but Jennifer felt she had to answer. He probably though she was stupid coming all this way to try out for a job she didn't deserve. But she had to try. She had to try for something, didn't she?
"And," the boss man continued, stirring in his leather chair, eyes fixing on the clock behind her, "you don't have any references."
It was a question. Definitely a question this time.
"I'm fully aware of what I don't have, sir. But I also know what I've got. All I'm asking for is a chance. Give me a chance, sir and I swear on my life I won't let you down. I'm a fast learner, I'm capable and I'm willing to—"
"Miss Darling, how old are you?"
"Seventeen."
"I don't understand how someone a year out of high school can't have basic qualifications or work experience. You have to admit, it doesn't look good for potential employers."
She didn't say anything.
The boss man's eyes narrowed and then a curious expression crossed his face. Pity? Disgust? It was getting difficult to tell these days. Eventually he settled with a sigh, a long one that reminded her of a balloon deflating. "Look, my advice to you is simple: go back to studying. Move back in with your parents, go to your local college and sign up for a course. These days it doesn't matter if you're stacking shelves in Fine Fare or building a mud hut in Botswana for charity. You need something."
"But—"
"You're not what we're looking for."
The carriage doors opened and people shuffled out before others took their place. It was the same routine day in and out. Jennifer had been trying to get a job for the past three months and had applied for everything she had come across, recently trying her luck in Glasgow and Edinburgh. But there it was, spelled out for her plain and simple: we do not want you. Bullshit not included.
It would take her two hours to get home, and that was two hours she'd spend dissecting the boss man's statement. Wondering what she could have done differently. Examining everything from her opening handshake to her shoes. Go back to studying, he'd said. But college wasn't an option now, either. She didn't have the money, was fresh out of fucking time and Tony would have a meltdown if she even suggested it.
What are you really looking for, o' my little darling? he'd say, face materialising from a thick cloud of cigarette smoke as he tried to read her across the dinner table.
Truthfully, she wasn't quite sure.
Leaving the underground behind, she went straight to Queen Street station. Time was on Jennifer's side, but she would get changed as quickly as possible, replacing one costume for another. Approaching the toilets and lockers at the right of the platforms, Jennifer did a double take. A woman was hovering at the doorway. Her hair was the piss-yellow of hydrogen peroxide washed too many times. Face gaunt. Cheek blemished with either a lipstick-kiss or birthmark. They locked eyes.
Recognition came with clawing terror. For a moment Jennifer thought it was someone she knew, maybe from Chapel or Fortford, but then the woman turned to study the departure board.
Shit.
The price she'd pay for leaving the village would be far more than her train ticket covered. She didn't want to think of the consequences. Once again Tony's voice filled her head. She could imagine him chuckling if he could see her now. Why have red alert when you can have brown, pet? Speaking of the proverbial shite, it will surely hit the fan if you're not home when I get back…
She collected her rucksack from a locker and went into the ladies' toilets, picking the disabled one at the very end. The interview clothes were quickly replaced with jeans and a jumper. Knee-high boots took the place of high heels. The next part was crucial. Prior to any interview, Jennifer would remove her piercings, cover her tattoos and even pull her blonde hair into a bun. They were the anchors to the other world, the other version of herself. Life reduced to a performance. She crouched down at the mirror, put all ten of the studs and hoops back through her ears and threw on a red jacket before reapplying her makeup and false eyelashes.
Jennifer leaned back when she was finished. Something wasn't right. She tried on a smile, pushed it so that it touched those bloodshot eyes of her and then she shortened the straps of her bra, pulled down the V-neck of her top. Better. Fuckable.
She got out of the cubicle and found someone standing by the sinks. It was the woman from outside. She looked at Jennifer in the mirror, a smile spreading lazily across her face like oil in a frying pan.
"Hello," the woman said.
"Hey."
Jennifer searched her jacket pockets, pretending she was looking for her train ticket and made for the door. The woman leapt forward, blocking the exit with an arm. She was tall and almost certainly a great deal stronger than Jennifer, who wasn't typically known for her brute strength.
"I know you," the woman said.
"I think you're mistaken."
"You're Saint's girl."
Jennifer's mouth became bone-dry. She studied the woman, tried to remember the face, the piss-yellow hair but drew up a blank. Although it was the middle of winter, the woman's arms were bare. Red dots marred the inside of her arm, around the elbow joint. They looked tiny and insignificant, like insect bites.
"Yeah, don't you remember?" the woman continued. "We partied in the sinflat last year."
An announcement came from outside: "The next train to arrive is on platform four. Bound for Fortford and Chapel…"
"I'm sorry, I really have to go." Jennifer made for the door again, but was shoved against the sinks. Pain exploded across her lower back, scorching up her spine. Temper erupted as she stared into the woman's stupid spaced-out face. "Look, whatever you're selling, I'm not interested. Okay?" Jennifer snarled. "I am not like you. Get it? I am not like you. Now get out of my fucking way."
The woman's lips peeled back, revealing a car crash of broken teeth as she cocked her head to the door. "Carl, you have to hear this one. She thinks I'm selling!" She lowered her voice, "Nah, I'm not trying to sell you anything. I recognised you as soon as I saw you. You're Saint's mule. Yeah, always carrying."
A man appeared at the doorway. Eyes held the same glazed expression as the girl but with a more ragged note of desperation.
"No," Jennifer whispered.
"Into that toilet," the man said. "And we'll make this quick."