Armitage - Chapter 7 - Unreal Possibilities (Part 1 of 3)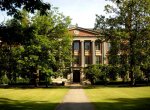 Mon, 03 Nov 2014
A few days later Madeline had got a phone call from Chris informing her of when Sophia's funeral was going to be. Whoever had killed her had ensured that her parents couldn't possibly give her an open casket funeral and Chris had asked Madeline to attend, probably more for him than anyone else.  Madeline didn't really know Sophia, she saw her on the few occasions that she ate at Salvatore's but other than that it was only really through Chris that she knew of her at all.  Nevertheless, she was more than willing to pay her final respects to the poor girl who had lost her life in such a horrific manner.
The funeral was held on a wet and cloudy Sunday morning at St. Peter's Church in downtown Armitage, and due to the bad weather the service was held entirely indoors.  Madeline sat a few pews back from the main family, feeling that was more respectful as she didn't really know Sophia, but she could see Chris sitting with Salvatore and Lucile, his face ashen and sad.  An elderly woman who Madeline assumed must have been Sophia's grandmother sat next to Lucile who was crying uncontrollably into her handkerchief.  The old woman wore a black veil over her face and clutched a crucifix to her chest with her thin, bony hand.
As Madeline sat in silence she felt a draught come from seemingly nowhere and she shivered as someone sat down next to her.
'Why Miss Jameson,' said Professor Mason quietly.  'I did not expect to see you here.'
'Oh, hello Professor,' said Madeline, somewhat stunned.  'I didn't know you knew the Damicos.'
'Well of course I heard of what happened to poor Sophia, and I have quite the memory for students.  I remember Miss Damico, and your brother as well, that's him with the poor girl's parents, is it not?'
'Yes, he was quite close with Sophia at one time.'
'Such a tragedy,' said the professor, shaking his head.  'To have a young life cut so short, terrible.  You knew Miss Damico, I assume?'
'Not really,' said Madeline, trying to keep her voice as low as possible.  'I knew her through Chris and I came for him as well as the family.'
'But of course, a touching gesture.  Shall we?'  While they had been talking the service had ended and people were rising from their pews and filing past the coffin to pay their final respects to Sophia, as well as offer condolences to her parents.  Madeline nodded silently and the two of them made their way to the front of the church.  Salvatore, Lucile and Sophia's grandmother were all standing beside the coffin, thanking people as they passed, and after Madeline had said her goodbyes to Sophia she moved off to stand with Chris, but as Professor Mason passed the coffin, Sophia's grandmother reached out with surprising speed and grabbed the man's wrist.
'There is much evil about you,' breathed the old woman, clutching at both the professor's wrist and her crucifix.  'You are not welcome here.  Leave us, devil!'
'What's going on?' asked Chris, as he strode over to find out what the commotion was about.
'I really have no idea,' said Professor Mason, trying to make it seem like he found the whole thing amusing.  'The poor woman's clearly grief stricken, she doesn't know what she is saying.'
'Evil, evil,' repeated the grandmother, tightening her grip on the professor's wrist and staring at him through her black veil, all the while performing the sign of the cross with the crucifix clutched in her hand.
'Mama, let him go,' said Salvatore, walking round to his mother's side and attempting to break her hold on Professor Mason's arm.  'I'm sorry about this,' he added, looking apologetically at the professor.
'That's quite alright,' said Professor Mason, finally wrenching his arm free of the old woman's vice-like grip.  He smoothed down his suit and smiled thinly before extending his hand to Salvatore.  'Professor Jonathan Mason,' he said silkily.  'And may I say how sorry I am that this terrible tragedy has befallen you.'
'Salvatore Damico,' nodded Sophia's father, taking the other man's hand and shaking it briefly.  'I appreciate you coming out to pay your respects to Sophia but how did you know her?'
'I am head of the History Department at the University and I have quite the memory for students.  I remember Sophia, a charming girl, a woman of taste no doubt.'  Inside, Mason revelled evilly at his little quip, even though he was the only one who understood it.  Outwardly, he was the picture of solemn respect as he engaged in conversation with the father of one of his meals: to tour the battlefield, as he liked to call it.
'Well, my wife and I thank you for coming all this way for our little girl, but we really should get my Mother home, she gets a little overwrought sometimes.'
'But of course, my warmest regards to Mrs. Damico.'  Turning on his heel, Mason nodded briefly to Madeline before making his way out of the church.  Stopping at the entrance, he waited for a second or two before Andreas pulled up in the Mercedes Benz and moving quickly Mason got in the back seat and slammed the door behind him.
'Blasted woman,' he hissed, as soon as he was seated.  'I swear, if I live to be a thousand I'll never understand how they always know.'
'Sir?' asked Andreas, glancing up into the rear view mirror.
'I mean really, I only came for a little fun,' continued Mason to himself.
'Is everything alright, sir?' pressed Andreas, still looking at Mason in the rear view mirror with his steely, dark eyes.
'Oh it doesn't matter,' said Mason, brushing the subject away with a casual wave of his hand.  'Take me home, Andreas.'         
'Yes sir.'  As Mason drove off, Madeline approached Salvatore, who was tending to his mother.
'What was that all about?' she asked, careful to remember that she was still at a funeral and emotions would be raw.
'There's something not right about that man,' said Salvatore in a tone much more serious than usual.  'I looked in his eyes and saw nothing.'
'What do you mean?' asked Madeline, frowning slightly in confusion.
'You can tell a lot about a person from their eyes, Madeline, and in my time I've grown used to reading people that way.  It's not an exact science I'll grant you,' he added, as Madeline looked at him slightly incredulously.  'But I'm not often wrong, and I'm telling you, I saw nothing in that man's eyes, and that worries me.'
'But what was all that business with your Mother?' asked Madeline, still curious about that topic.
'Mama may be a bit dramatic but she's not crazy,' said Salvatore quietly, casting a quick glance at his mother.  'She can tell about people better than I, and something about your Professor has her spooked.  I'd watch yourself around him if I were you.'
'But Professor Mason saved my life the other night,' said Madeline, trying to make sense of it all.  'He's a nice man, really.'
'Maybe so,' said Salvatore, taking Madeline's hands in his.  'I hope for your sake you're right.'
*          *          *
News of Sophia Damico's murder had spread quickly and for many the meeting scheduled with Sergeant Thomas could not come fast enough, so when Madeline, Ben and Abby arrived for the first of these meetings they were not surprised to find the auditorium nearly full, with rows of worried faces lining the seats.  Sergeant Thomas smiled at Madeline as she and her two friends made their way to a group of free seats and when everyone was settled he walked out from behind the table that had been set up for him and placed his hands behind his back.
'Good evening ladies and gentleman,' he began.  'First let me say how glad I am that so many of you have turned up, this shows that you take your personal safety seriously.  Before I start I'd like to ask you to repeat what you learn tonight to anyone you know who isn't here, the more people who are aware of the current dangers hopefully the less people will fall victim to them.  Now then, shall we begin?'
The meeting lasted just over an hour, with Sergeant Thomas going over basic safety rules and indicating the literature that he had brought with him.  A special phone line had been set up for people with information concerning the recent attacks, and as the students began to file out of their seats at the end of the meeting Sergeant Thomas was handing out pamphlets and contact cards to anyone who would take them.
'Remember to store this number in your phones as well as keep the card handy,' he said as he passed out the relevant literature.  'That way you're not likely to lose it.  Hi Madeline.'
'Oh, hi,' said Madeline as she took a pamphlet and contact card from Sergeant Thomas.  'Is this your number or a different one?'
'Oh that's right, you have one of my cards already, don't you?'
'Yes,' nodded Madeline.
'Well this is a new number but keep mine anyway.'
'Okay.'  Sergeant Thomas looked about him briefly before addressing Madeline again.
'Listen, can you wait behind a minute?' he said.
'Yeah, sure, I'll just be over there.'
'Okay, great.'  Madeline folded the pamphlet and put it in her bag before slipping the card into her wallet.  She walked back over to Ben and Abby who were waiting for her by the door.
'Do you guys mind waiting for me?' she asked, as she hitched her bag back up on her shoulder.  'Sergeant Thomas wants to talk to me.'
'Yeah, no problem,' said Abby, who ushered Ben over to some seats in the front row, prodding him to pay attention to where he was going.
'Sorry babe,' he said, fiddling with his phone.  'I was putting that number in.'
'Well do it when you sit down,' said Abby, giving him another nudge.  Madeline smiled to herself and returned to the table where Sergeant Thomas was packing his things away.
'How are you, Madeline?' he asked as he snapped his briefcase shut.
'Fine, thanks,' said Madeline.  'A little shook up about all that's going on at the moment but I'm coping.'
'Glad to hear it,' said Sergeant Thomas, coming round to her side of the table.  'Listen, about the guy who attacked you.  We've conducted extensive searches and put out an APB but it looks like he's just up and vanished, no sign of him anywhere.'
'Do you think he killed Sophia Damico?' asked Madeline, a grave tone in her voice.
'I don't know, it would be convenient to say yes but to be honest the MO of the Damico case was different from the others.'
'How so?'
'The other attacks were just that, attacks.  This guy, assuming it was the same one who tried to attack you, worked on the streets and we always found his victims in alleys or abandoned buildings.  This suggests he was a drifter or something, acting on impulse.  Whereas, whoever killed the Damico girl took her someplace for a few days before killing her, suggesting they have a fixed address.'  Sergeant Thomas paused and surveyed Madeline before continuing.  'I don't mean to upset you, but I thought you should know all the facts.'
'No, I appreciate it,' said Madeline.  'It doesn't make the facts any more pleasant but at least I know them.  So if the two cases are definitely different why have you been assigned them both?'
'Well like I told your brother when he came to see me the other day,' said the sergeant, lowering his voice somewhat.  'These cases are strange and I seem to have gotten a bit of a rep for investigating the first set of attacks.'  He cast his gaze downward for a moment before continuing.  'I guess they think I have a flair for the unusual,' he said half jokingly.
'What do you mean the cases are strange?' asked Madeline, her curiosity growing.
'Well with the first set of attacks each victim suffered massive blood loss but each crime scene gave up no evidence of where that blood could have gone.  No traces whatsoever, not even any traces of cleaning agents so it can't have even been spilled and then cleaned up.'
'So what's strange about the Damico case, I mean apart from the obvious?' pressed Madeline.
'Well the MO's different but once again the victim sustained extreme blood loss, only…'
'Only what?' asked Madeline when the sergeant didn't finish.
'Are you sure you're okay hearing about this kind of stuff?  It gets kind of grisly.'
'Tell me, please,' said Madeline.
'Okay.'  The sergeant breathed deeply and ran his hand over his face before continuing.
'I know it sounds crazy but the only way the coroner can determine the source of the blood loss in the first set of cases are through two puncture-like wounds on the side of the neck.'