Armitage - Chapter 9 - The Chemist's Compound (Part 1 of 2)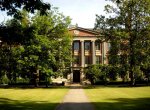 Mon, 17 Nov 2014
At the sound of Sebastian's voice Madeline spun in her chair, and when she saw the now all too familiar hooded figure standing not two feet by her side she recoiled in fright.  Standing quickly, the book falling to the floor, Madeline almost tripped over herself as she tried to make good her escape.  She prayed he would not follow her as she barrelled out through the curtain, hitting Zeb and falling backwards in her panic.
'Woah there,' said the shop owner, helping Madeline to her feet.  'Where's the fire?'
'Let me go,' stammered Madeline, still dizzy with fear.  'He's down there!'
'Who, Sebastian?  Yeah, I know.'
'Sebastian?  You know him?' said Madeline, calming down somewhat.
'Yeah, me and him go way back.'  Zeb smiled as Madeline gave him a questioning look.  'Well, not that far back, I ain't a vampire if that's what you're thinking.'
'But how can he…?'
'Why not ask him?' said Zeb, nodding towards the backroom curtain.  Madeline looked back towards where she had just hurtled out of and started to feel a little bit embarrassed.  The hooded figure, who she now knew to be called Sebastian, may have scared her half to death on several occasions but he had never once laid a finger on her, and considering he seemed to have been in the room with her the whole time she was reading the book he had ample opportunity to hurt her, but he didn't.  Collecting her thoughts she looked around the shop and realised that Mike was no longer there, and Zeb, noticing this smiled once again.
'Don't worry about Mike,' he said as he walked over to the shop door.  'I told him you'd be a while and he had a class to get to.  I told him I'd walk you back to campus.'  Kneeling down at the foot of his front door he began sliding the locks in place, and standing up he saw Madeline's concerned expression.
'Look, Sebastian's harmless,' he said, returning to his counter.  'He hangs out here sometimes because I know what he is, and he asked for my help in getting you down here.'
'He did?  How?' asked Madeline.
'He gave me his book.  You see, I didn't actually have it before be brought it to me, but he figured it could tell you what you needed to know better than him trying to get you to listen to him.'
'He wrote it?' asked Madeline.
'Sure did,' said Zeb.
'So you're saying it's all true?' asked Madeline, the disbelief rising in her voice.
'Every word,' said Sebastian, who had appeared in the backroom doorway.  Madeline gasped in shock as she took in the sight of Sebastian, his hood pulled back, revealing a haggard and weathered face.  His dark eyes sat heavy in his skull, sunken and weary, his cheeks pinched and angular, while the dishevelled mop of grey-flecked brown hair framed his haunted face like a washed out flame.  As Madeline stared at him her fear began to be replaced by pity and sadness, his wretchedness obliterating any threat she thought he posed to her, and in a moment of what she hoped was not rash bravery she approached the broken man cautiously.
'I'm sorry I ran from you,' she said in a small voice.
'It's quite alright,' said Sebastian, much clearer than Madeline had ever heard him speak before.  'We have much to discuss.'  Sebastian looked to Zeb who was counting up his takings for the day.
'Hey, feel free man,' he said with a smile.  'The backroom's all yours.'
'Shall we then?' said Sebastian, holding the curtain for Madeline.  Tentatively, she stepped once again into the backroom and sat down as Sebastian closed the curtain behind him.
'First, let me apologise for the clandestine manner in which I have been keeping tabs on you of late,' he said as he seated himself a respectful distance from Madeline.  'I had to be sure you could keep a cool head in the face of, shall we say, extraordinary circumstances.'
'But how am I supposed to believe all this?' asked Madeline, taking care not to exasperate the man who could still turn out to be dangerous.  'How can vampires possibly exist?'
'Believe me, I wish they didn't,' said Sebastian, his forlorn gaze dropping for a second.  'The things I have seen…the things I have done.'  He broke off and a heavy pause settled on the small, dusty room.  'But regardless of what the logical mind tells us cannot be, I assure you, vampires are sadly very real.'
'So what exactly do you want with me?' asked Madeline, deciding to be blunt.
'It's as I said before, he has chosen you; and unless you listen to me you are going to die and there will be nothing that you can do about it.'  At these words a sudden fear and anger rose inside Madeline and before she knew what she was doing she was responding with perhaps more vigour than she would normally deem wise.
'And what's that supposed to mean?' she said, standing up.  'Look, you follow me about campus and scare the crap out of me, somehow break into my room, and lead me on a wild goose chase to read some damn book about how you claim to be a vampire.  And now you tell me I'm going to die unless I listen to you?  What the hell is this crap?  How do I know you're not some kind of junkie psycho who's out to do God knows what to me?  How do I even know I'm safe here?'  The more she spoke the more worried Madeline became; as she realised she was stuck inside a locked store with a potential maniac and his accomplice only a few feet away.  As this thought took hold so did the fear, her breath started to quicken and her skin prickled with the imminence of a cold sweat.  She looked about her quickly, her eyes darting from Sebastian to any available escape route, but after the bedraggled stranger remained seated throughout her diatribe Madeline began to calm down somewhat.  Feeling her cheeks flush with embarrassment she collected herself and sat down once again.  'Look, I'm sorry,' she said.
'It's fine, really,' said Sebastian.  'You're taking this better than some of the others.'
'Others?' asked Madeline, her curiosity instantly piqued.
'Yes, I am afraid to say that you are not the first, but by God I hope that you are the last.'
'Not the first what though?' she asked, desperate to find out what this was all about.
'The one that made me is an old vampire, how old I cannot say, but he was well versed in his evil ways long before he met me, and you cannot imagine the kind of time we are talking about.  Think about how tedious an afternoon can be if you have nothing to do, now try and imagine decades and decades of it.'
'What's that got to do with anything?' asked Madeline, worried she had missed something.  'And who exactly is the man in the book supposed to be?'
'He has had many names, but you know him as Mason.'
'Mason?  Jonathan Mason?  My History Professor?'
Sebastian nodded.
Madeline sat in stunned silence for a moment or two as she attempted to absorb what she had just been told.  Could her History Professor really be a vampire?  It all sounded so crazy, she thought, how could any of this possibly be true?
'You can't be serious,' she said, once her powers of speech had returned to her.
'I am deadly serious,' said Sebastian.  'He is the one who made me and it is of the utmost importance that you listen to what I have to say.  I know how unbelievable it sounds, but there really is no time to ponder on the veracity of my tale.  Everything I have told you is the truth; he is a vampire, I am a vampire, and unless we work together there may be no stopping him.'
'I'm sorry but this is all so crazy,' said Madeline, standing up.  'How can I believe any of this?'  She began to move towards the curtained doorway once again but stopped when she heard Sebastian speak.
'You are right,' he said in a quiet, defeated voice.  'You need proof before we can continue.'  Standing up himself, Sebastian walked to the back of the room and turned to face Madeline.
'What are you doing?' she asked, one hand on the curtain, ready to make final her exit.
'Giving you proof,' said Sebastian before reaching up and taking hold of the corner of a thick looking piece of fabric that was attached to the wall and tugging at it hard.  The fabric fell away to reveal a somewhat grimy window, and as soon as the daylight poured into the room Sebastian shrieked in pain, wisps of acrid smelling smoke emanating from all about his exposed head and hands.  Madeline screamed at the sight of this poor creature writhing in agony in front of her, and before she knew what to do the curtain was thrown aside and Zeb came hurtling into the room.
'What the hell's going on in here?' he shouted as he picked up the thick fabric and wrapped Sebastian in it, covering his now blistered face and hands and leading him to a shaded corner.  Shooting Madeline a brief but angered look, Zeb retrieved another length of the same thick fabric from a nearby shelf and quickly covered the window, once again blocking out the daylight.  'You've got some nerve, lady,' he said, walking up to Madeline and staring into her intensely.  'What the hell were trying to do?'
'But I didn't…' began Madeline a little shakily.
'It's alright Zeb, I did it,' said Sebastian in a strained, hoarse voice from the corner of the room.
'What?  Why would you do that?'  Zeb walked over to where Sebastian sat huddled and knelt down beside him.
'She needed to believe,' was all he could say.
'Well, do you now?' asked Zeb scornfully as he stood up to face Madeline.
'I…I…'  Madeline could not get her words out, they remained stuck and jumbled in her throat, her eyes still wide from the shock of witnessing Sebastian's self inflicted torture.  Seeing how shaken she was, Zeb's expression softened and before he could speak Madeline rushed forward and hugged the store owner, the tears erupting from her eyes as she buried her face into his chest.
'Hey now, it's alright,' said Zeb soothingly.  'I'm sorry I was so hard on you, I guess I didn't expect Sebastian to pull such a crazy stunt.'
'I'm so sorry,' she sobbed.  'Will he be alright?'
'He'll be fine, I think he only got a couple of seconds' blast, but he won't be in any shape to talk for a few days.  If you give me your number I'll call you when he's all patched up.'
'Okay,' sniffed Madeline, feeling somewhat ashamed for her emotional outburst.  She recited her phone number for Zeb and took one last look at the crumpled heap that was Sebastian before being walked back to campus.
Madeline didn't say much on the walk back to the university, but neither did Zeb, and she appreciated the lull in the conversation.  It gave her time to try and sort through the numerous and jumbled thoughts that cascaded inside her head.  Words failed her as to what she had just gone through but the possibility of it being true kept nagging at her mind.  The ramifications of the tale Sebastian had told her, both in print and in conversation, were mind boggling, and if any of it were to be believed then the most pressing matter was the supposed immediate danger facing her, allegedly at the hands of her own History Professor.  It was all too much to take in.
When the two of them arrived at her dorm building Madeline turned to Zeb.
'Thanks for walking me back, she said appreciatively.
'Not a problem,' he said, smiling warmly.  'I'll let you know as soon as Sebastian's ready to talk.'
'That's great, thanks.  Have a safe walk back.'
'Okay, see you around.'  Zeb smiled again and began the walk back to his store, leaving Madeline to think some more on everything that had happened.  She didn't know when she would get to talk to Sebastian again but she hoped it would not be long, if nothing more than to get some answers.