To Catch a Thief - Part Seven - Father and Son (3 of 3)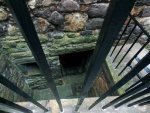 Tue, 01 Sep 2020
Vimes walked forward and, without a word, punched Clarence square on the nose.  The younger Vetinari staggered back and fell clumsily on to his backside, bringing his hand up to his face as he fell, while the elder Vetinari rose from his chair, tense and suddenly alert.
Vimes stood over the fallen Clarence and regarded him for a second.
He then held out his hand to help the young man up.
'Pseudopolis Yard.  Daybreak.  Tomorrow.  Don't be late.'  The Patrician visibly relaxed and removed his hand from where it had shot to on the underside of his desk.  Later that day, Vimes would have time to contemplate how much of his life he had taken into his own hands by striking the Patrician's only son, but in the moment it felt glorious.
Despite his bleeding nose, Clarence was still able to snap to another textbook attention.
'Yes, sir,' he said, thickly.
'And if you ever pull any of that stuff on me again,' said Vimes, standing almost nose to nose with Clarence.  'I'll have your guts for garters.'
'Yes, sir.'
'I mean it, lad.  I don't care who your father is, if you're going to be in the Watch then you'll toe the line like everybody else.  No nicking stuff, no dressing up like bloody assassins and beggars.  Not unless I tell you to for a case.  You hear me?'
'Yes, sir.'  Clarence's gaze flitted to his father for a moment, and then back again.
Vimes turned smartly on his heel and began to walk out of the Oblong Office.
'Oh, Commander,' said Lord Vetinari.
Vimes stopped and turned around.
'Yes, sir?' he said.
'Don't be too hard on the boy.  After all, he was only guilty of two of things you so thoroughly admonished for just now.'
'What…' Vimes began.
Then, the Patrician coughed.  Or, it sounded like a cough at first.  After a second, though, Vimes realised that what Lord Vetinari had in fact said was "Buggrit!'
No!
'It…was you impersonating Foul Ole Ron?'
'It was,' said Vetinari, a mischievous glint in his eye.
Silence, again, for a moment that felt like a lifetime.
'But…why?' Vimes asked, almost pleading on the second word.  With everything else he had to deal with from the Patrician, this really was too much.
Lord Vetinari smiled.
'Permit me some fun in life, Commander.  It was so enthralling to see Clarence at work that I admit to succumbing to temptation to join the fray, as it were.  And, it provided an excellent opportunity to conduct an informal inspection of your Watch House.  You run a tight ship, Commander.  I applaud you.'
Vimes felt his hand ball into a fist again.  He wondered whether he could live through the day if he punched out two Vetinaris.
Probably not.
'Yes, sir,' he said, before leaving without another word.
Commander Samuel Vimes of the Ankh-Morpork City Watch left the Patrician's Palace that day with a new recruit, some bruised knuckles, and a burning desire for the mother of all bacon sandwiches, complete with as many crunchy bits as humanly possible.
Sod it.
*           *           *