To Catch a Thief - Part Two - A Shady Character (1 of 2)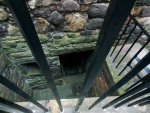 Tue, 18 Aug 2020
Nearly two decades later.
Winter had descended on Ankh-Morpork and held the city ruthlessly in its icy grip.  People went about their daily business, just as they had done for many days before, and just as they would for many days afterwards, providing they weren't mugged, murdered, shanghaied, or any of the other unfortunate ends that an Ankh-Morpork citizen could come to by just daring to breathe in and out.
However, something strange was going on in the city.  Stranger than usual, at least.  The frigid weather had not only iced over the normally turgid River Ankh – as well as every water butt within the city walls – but the freezing conditions seemed to have been putting off almost all forms of criminal activity.  That is not to say that Ankh-Morpork was crime-free; that was an oxymoron.  The very notion of Ankh-Morpork being crime-free would rob it of its very…Ankh-Morporkness.  Even if (and when) the city was to be burned to ash people would steal the ash.  Cut-Me-Own-Throat Dibbler, the city's premier greasy entrepreneur, would probably market it as a facial scrub.  At a discount, of course, and that would be cutting his own throat.
Seemingly, it was just too cold to commit crime.
To most civic-minded people, this would be fantastic news, but to one seasoned veteran of law enforcement it was doing his crust in.
'Bored!' shouted Commander Samuel Vimes, to the Multiverse at large.
'Sir?'  Captain Carrot Ironfondersson, Dwarf by birth and copper by nature, poked his head into his superior's office, his eyebrows raised questioningly.
'I'm bored, Carrot, godsdamnit!'  Vimes was sitting back in his office chair, his sandaled feet resting on his desk.  'I haven't had so little to do since I was in the Night Watch, but at least then I could be drunk while doing it!'
Carrot stepped into Vimes' office and stood to attention.  It did get on Vimes' nerves a little the way Carrot was always – and he did mean always – on duty one thousand percent, but it irritated him more because Carrot's outstanding devotion to duty just put into sharp relief how old and tired some of the more seasoned members of the Watch had become.
He included himself in that thought, and he didn't like it.
'It is noticeably quiet out there, Sir,' said Carrot, as if he was revealing some great mysterious truth.
'Quiet?' scoffed Vimes.  'A Saturday night in the Plague Pits would be livelier!'  A few moments' silence passed between the two men.  Carrot coughed politely before speaking again.
'Um, Sir.  If there's nothing to do, you could always…go home?'  The look that Vimes shot his Captain made Carrot wish he hadn't said anything.
'No,' said Vimes flatly.  'It's Young Sam's schooling hours, and if I go home, he'll want to play, and you know Sam, he'll get me.  He always does.'  The hard look in Vimes' face softened for a moment as he thought of his son.  Carrot nodded sympathetically.
'And besides,' Vimes continued.  'Sybil has a gaggle of those blasted interchangeable Emmas at the house.  I never know which is which, and Sybil always gets on at me to pay more attention.'
More pointed silence between the Commander and his Captain.
'Ugh!  This is interminable!' said Vimes, throwing his hands in the air.  'I'm going out for a while.  If I'm going to be bored out of my bloody mind I can at least do it with a bacon sandwich in my hand.'
'Sir,' said Carrot, saluting.
'Carrot, you're in charge until I get back.  If anything interesting happens send someone to find me, do you hear?  If this dry spell goes on much longer, I might just choke myself on that sodding sandwich!'
'Actually Sir, I have some errands to run myself.  I shall assign Captain Angua to mind the Yard for us.'
'Whatever,' said Vimes, as he stood up and took his helmet from the hat stand in the corner.  'Just as long as she doesn't let the place get burned to the ground.  Although, that would give us something to do, at least!'
'Sir.'
Vimes left Pseudopolis Yard, his thoughts firmly in the realms of bacon.
*           *           *
Some say the Multiverse is a kind and benevolent force.  Others say it is a cruel and unfeeling monster that cares nothing for the souls within it.
Both are correct.
But what the Multiverse also is, or rather does, is listen.
And, in this instance, it appeared to have been listening to Sir Samuel Vimes.
He had wanted crime.
So, crime was born.
'Stop, thief!'
Ordinarily, a cry such as this would elicit forty shades of indifference in the thronged streets of Ankh-Morpork, what with thievery being legal within the confines of the Thieves' Guild, but it was what the crier shouted next that set this act of larceny apart from the everyday pilfering the city was used to:
'He's stolen from the Palace!  He's stolen from the Patrician!'
Heads turned, and attentions were snapped into focus at this second piece of information.  No one stole from the Patrician.  It just wasn't done.
It was, well, stupid.
Very, very stupid.
Lord Vetinari was not a man to be crossed.  At least not twice.  The opportunity to do it more than once rarely, if ever, came up.  So, to steal from him meant that the perpetrator was either new to the city and did not understand its ways, or they had an extremely pronounced death wish.
Nevertheless, the act had been committed and the culprit was sprinting speedily from the crime scene, his booty stuffed hastily into a small sack that he hugged tight to his body.  Palace guards clanked and puffed after him in a vain attempt to give chase, but to no avail.  The thief was lithe and nimble and moved with impressive speed.  The Palace guards were far more used to standing around all day and not having to move much, so this sudden need to exert themselves was being met with noticeable physical resistance from their paunchy bodies.
The thief skittered around corridors and descended staircases three steps at a time: light of foot and swift of pace.  He shot past expensive-looking tapestries and spindly polished tables that had frail and intricately painted vases standing on them.  Grand portraits looked down importantly at him from the walls as he rocketed by.  Every time he encountered a fresh batch of Palace guards, he ducked down a side corridor or doubled back and found another route, evading capture with ease.
Outside, the two guards stationed on the main Palace doors stamped their feet to keep the feeling in them.  One blew into his hands in a vain attempt to inject some warmth into them, but the frosty climate would not yield.  The two guards got the fright of their lives when one of the Palace's massive double doors burst open and a skinny, grubby-looking bearded figure shot out of the open doorway and began tearing down the gravel path towards the main gate.
'Stop him!' shouted a guard, wheezily, from the Palace's entrance hall.  The guards on the door exchanged a brief glance and gave chase, the bright plumes on their helmets dancing madly as they pounded along, trying desperately to gain ground on the unknown interloper.
They didn't stand a chance.
The thief was at the gates before the guards were halfway down the drive.  He leaped impressively towards the wall encircling the Palace grounds, kicked off of the smooth stone and propelled himself to the top of the magnificent wrought iron gates as if it was no effort at all.  He cast a triumphant look back towards the Palace, his breath steaming in the frigid air, and dropped lightly on to the street outside.  Smiling, he knew he was now no longer within the jurisdiction of the Palace guards.  Now he was at the mercy of the Ankh-Morpork City Watch.
Now the fun would really begin.
'You there!'  Stop!'
Captain Carrot, who had up until that moment been talking to a shop-keep on the other side of the road to the Palace, called out at the sight of a strange man dropping down from the gates.  He knew that no one went to the Palace unless invited by the Patrician – whether willingly or not – and they certainly didn't leave by climbing the gates.  So, whomever this fellow was he was clearly up to no good.
The thief smiled.
The thief ran.
Carrot bade the shop-keep a very hasty goodbye and gave chase.
The thief bobbed and weaved through the packed streets, dodging people of varying species and the myriad items they were holding, working on, selling, stealing, etc.  Captain Carrot did his best to keep up, his jolly woollen scarf – a Hogswatch gift from Captain Angua von Überwald – flapping behind him, and normally Carrot's best was enough to outstrip any lawbreaker in the city, but this one was different.  Carrot felt like a lumbering slab of jelly compared to this suspect (innocent until proven guilty, Carrot lived and would die by this principle) and after several minutes and a dozen streets and alleys he was getting out of breath.
'Captain?'
Rounding a corner, flushed and red-faced, Carrot nearly knocked over Commander Vimes, who was just finishing off the bacon sandwich – including the extra crunchy bits – he had left the station for.  Wheezing, Carrot pointed a shaking finger in the direction of the thief and managed to breathe the word "stolen."
That was all that Vimes needed to hear.
He scanned the street ahead of him, bringing his hand up to shield his eyes against the bright winter sun, and caught sight of someone running away very fast.  He looked at his Captain, who was still trying to catch his breath.
'That one?' he asked, indicating the retreating individual.
Carrot nodded.