Headology 101 - Chapter 10 - I Ate'nt Dead (Part 1 of 2)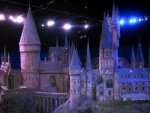 Mon, 06 Apr 2015
'Release her, Tom,' said Dumbledore severely, his wand pointing directly at Voldemort's chest.
'Hah, that's just what the giant said,' cackled Voldemort, glancing at Hagrid's prone and unmoving figure that occupied almost all the floor space of the tiny cabin.  'But of course he knew better than to call me by my Muggle name.  You, on the other hand, never learn!'  With reptilian speed Voldemort fired a spell at Dumbledore, but the Headmaster blocked it easily, his intense blue eyes never leaving The Dark Lord.
'Your hatred towards your own upbringing is foolish, Tom,' said Dumbledore sternly, continuing to use Voldemort's real name.  'Your parents were good people…'
'My parents were fools!' shouted Voldemort, his snake like eyes narrowing in anger.  'As are you!  Now, shall we step outside?  I want your entire school to see their precious Headmaster done away with once and for all.'
'As you wish, Tom, but let the girl go.  She has done nothing to you.'
'What, this dirty little Mudblood?' spat Voldemort, sneering down at Hermione as though she were an insect.  'I have no use for her; she was merely a way to draw you and that insufferable Potter boy out into the open.'  Unwrapping his skeleton like arm from around Hermione's throat he shoved her to the floor where she immediately ran terrified past Dumbledore and Harry, whose attentions were diverted from Voldemort for the merest of seconds, and that was when The Dark Lord struck.
Striking swiftly, Voldemort caught both Dumbledore and Harry with a hex each, sending them both tumbling backwards on to the lawn and splintering a portion of Hagrid's cabin in the process.  Returning to his feet Dumbledore realised that Voldemort had no intention of killing either Harry or himself right away, he was toying with them for the sheer sport of it.
'You don't know how long I have wanted to do that, old man,' rasped Voldemort as he circled the Headmaster like a shark circles its prey.  Dumbledore risked a glance at Harry lying unconscious on the grass.  There was no blood to be seen and he seemed to be still breathing, he would be safe for now as long as Dumbledore could keep Voldemort busy.
'If it is sport you are after Tom, at least make it interesting.'  Dumbledore's eyes flashed dangerously as he sent a powerful hex in just the right direction that would cause Voldemort to have to physically dodge it, and when he did Dumbledore caught him with a second hex that sent him hurtling several feet backwards.
'Very sneaky Albus, but it seems that you are about to become outnumbered.'  Voldemort's lips curled back into a cold and wicked grin as Dumbledore half turned to see Professor Snape striding across the lawn.
'It is Professor Dumbledore to you, Thomas Riddle!' roared the Headmaster as he flawed Voldemort with yet another powerful hex.  Dumbledore was angry with himself and furious at Voldemort over him using the Avada Kedavra curse on what turned out to be the wrong person so he was in no rush to use it again.  He knew that Lord Voldemort must be stopped but he could not bring himself to use such dark magic again, he knew all too well that it was a slippery slope and he was not going to allow himself to tread the same path as The Dark Lord.  Keeping his wand trained on Voldemort, Dumbledore watched as Professor Snape approached the scene, kneeling first by Harry and then moving to stand where he could see both Dumbledore and Voldemort.
'Ah Severus,' said Voldemort with oily confidence.  'Right on time as usual, dispose of this meddlesome fool for me, would you?  I must prepare for when young Potter awakes.'
'No,' said Snape.
'What?' snapped Voldemort, his expression darkening rapidly as he stood to face the defiant Potions Master.
'I said no,' repeated Snape, his stance rigid and his eyes hard.
'Traitor!' screamed Voldemort, as he thrust his wand in front of Snape's face.
'Will you kill me as you did Lucius?' asked Snape coldly.
'Malfoy was loyal,' said Voldemort icily.  'Not like you!  I should have known this old fool would turn you soft.'
'Professor Dumbledore gave me a second chance when no one else would,' said Snape reasonably.
'Your parents would be ashamed of you,' sneered Voldemort mockingly.  'They had what it took to be true Death Eaters, I can see it does not run in the family.'
'I have spent too long feeling ashamed,' said Snape.  'Now I will do something I can be proud of.'  As soon as the words left his mouth, Snape spun on his heel, firing a curse at Voldemort as he rounded on The Dark Lord.  Just barely blocking the curse, Voldemort fired one in response and backed away a few paces in order to keep both Dumbledore and Snape in his sights.
'Well, it seems now I am at a disadvantage,' said Voldemort, smiling evilly.  'Lets see if I can't even things out a little.'  With a flicker of his one free hand, a second wand appeared out of nowhere and Voldemort wasted no time in sending hexes and curses flying at both Dumbledore and Snape as fast as they could counter them.
As Voldemort battled Dumbledore and Snape, Harry lay sprawled out on the grass, oblivious to all but one thing, his dreams.  This time he found himself where he remembered being before he lost consciousness, on the lawn by Hagrid's cabin.  He moved his head and saw the familiar glow coming from the window but when he tried to stand his body did not respond.  He tried moving his arms, his legs but nothing worked, he was frozen to the spot.  His breathing became quicker as he started to panic, but as he was staring at Hagrid's cabin trying to think of what to do the door opened slightly and someone stepped out.
Sirius.
Harry could not see him as clearly as he had done in his previous dreams, the inside of Hagrid's cabin could be seen through Sirius' body, which faded and somewhat solidified with a slow, pulse like rhythm.  Harry remembered his last dream with Sirius in it, he had changed into a unicorn and brought Harry down here, so perhaps doing that had drained what little strength he had and he could only partially appear to him.
'Sirius…' Harry's voice was strained and he could barely raise his head to look at his godfather but Sirius knelt beside him and smiled the same sad smile that Harry had seen before in his dreams and longed to see again in real life.  Sirius smoothed Harry's hair out of his eyes and just continued to smile, which Harry had to admit was of some comfort, but before he could try and talk again the world he occupied was swept away and was replaced by reality.
Harry groaned slightly as the real world swam back into line and with it came the sounds of the duel that was happening not ten feet from him.  When he finally focused on what was going on, Professors Dumbledore and Snape were standing over Lord Voldemort, their wands aimed and ready to fire.  The Dark Lord did not look scared and when he glanced over and saw that Harry was awake his mouth cracked into an evil smirk.
'Ah Harry, so glad you're awake.  I wouldn't want you to miss this!'  With lightning quickness Voldemort made as if he was going to fire a curse in Harry's direction but as soon as Dumbledore and Snape moved to counter whatever was cast at Harry he fired the dreaded Avada Kedavra curse at his actual target.
 Dumbledore.
Acting on instinct, Snape shoved Dumbledore out of the way and caught the full force of the killing curse that racked his body and left him dead before he had even hit the ground.
'No!' screamed Harry, as he got hastily to his feet and ran for Voldemort, wand out.
'Now that's just about enough of that!' came a piercing voice from the direction of the castle, causing not only Harry to stop dead in his tracks but also Voldemort to freeze where he stood.
'Thomas Marvolo Riddle, get here right now!' shouted Professor Weatherwax, as she strode angrily across the lawn.  Harry looked from her to Voldemort and he could not believe his eyes.  Voldemort actually looked scared.  As the fearsome woman drew ever nearer, Dumbledore stood up from where he had knelt beside the corpse of Snape and regarded her with a mix of fear and hope.
'Esmerelda.'
'Albus,' replied Professor Weatherwax stiffly.
'I'm not afraid of you anymore!' said Voldemort defiantly, but with far less conviction than his voice usually carried.  As soon as Professor Weatherwax was close enough to Voldemort she slapped him hard across the face.
'You always were a nasty piece of work, Tom Riddle,' said Professor Weatherwax, fixing him with a sharp glare.
'You can't bully me anymore,' said Voldemort in what was almost a whine.  'You're all the same, you old witches.  You think you know everything and you think you can go about pushing people around.'
'Oh, so I should be killing them like you, should I?' asked Professor Weatherwax, clearly not impressed.  Before Voldemort had chance to reply, Professor Weatherwax walked briskly past him and took Harry by the arm.
'Professor…' began Harry.
'Later Harry, later.'
'You can't take him,' said Voldemort, stepping in front of them.  'Potter and I have a little unfinished business.'
'Oh shut up, Tom,' said Professor Weatherwax, as she snatched both wands from Voldemort's thin fingers.  'You haven't changed a bit, have you?  You were an ignorant little bugger when you was a boy as well.'  Pocketing both wands, Professor Weatherwax led Harry back across the lawn towards the castle where Professor McGonagall was waiting.  Dumbledore had his wand trained on Voldemort as The Dark Lord called after Professor Weatherwax.
'You think I need wands to do magic?' he sneered.  'I have true power; your magic is just bullying people into not asking questions.  You're nothing but a fraud!'  At this Professor Weatherwax stopped and exhaled slowly through her nose.  Fishing Voldemort's wands out of her pocket she handed them to Harry.
'I want you to do something for me, Harry,' she said, as she rummaged in her other pockets and pulled out a small grubby piece of paper and a stub of pencil.  'If something should happen to me I want you to read this.'  She scribbled quickly on the paper, folded it in two and handed it to Harry, who looked at her in confusion.
'What is it?' he asked.
'Never you mind,' said Professor Weatherwax sternly.  'Just don't go reading it unless you have to.'
'How will I know when that is?'
'You'll know.'  Turning on her heel, Professor Weatherwax walked back towards Voldemort and came to a stop right in front of him.
'I am not afraid of you,' said Voldemort once again.
'Prove it,' said Professor Weatherwax.  Wasting no time, Voldemort hit the old woman with a curse and even though it looked like she had blocked it, her eyes rolled back in her head and she fell gracelessly on to the lawn.
'Esmerelda!' exclaimed Dumbledore, the shock clearly visible in his voice.
'Hah, the old bat was bluffing,' said Voldemort triumphantly.  'She should have known better than to trifle with me.'
'Tom I have never taken pleasure in the suffering of others,' said Dumbledore viciously.  'But if it takes my last breath I will see you dead!'
'Oh so the old man does have a backbone,' jeered Voldemort, clearly bolstered by the fall of Professor Weatherwax.  'Then lets see what you can do, shall we?'  The two men began circling each other, Dumbledore with his wand pointed fixedly at Voldemort and The Dark Lord flexing his fingers, ready for the first strike.  Dumbstruck, Harry almost forgot the piece of paper clutched in his hands and he nearly ripped it when he remembered it was there.  His brow furrowed in confusion when he read what was written on the paper:
I Ate'nt Dead