The Machines of Power - Part 1 of 9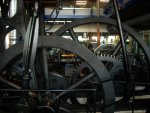 Sun, 21 Sep 2014
August
The corridors of power lay silent.  The memories of a thousand decisions sat dormant in the dusty air, waiting to be joined by a thousand more.
All was still.
Almost.
Rumbling through the quiet like distant thunder, a noise began to fill the air.  As it grew, so did two accompanying voices.
'No, no no!' came the first.
'Duck!' came the second.  With sickening rapidity, the noise increased in volume, paused for the tiniest of seconds and then erupted into a booming explosion that echoed down the corridors.
Silence followed, but this was quickly broken once again, this time by footsteps.  They were purposeful footsteps and there were two pairs of them, one clearly attempting to keep up with the other.  Suddenly, a nondescript side door burst open and two figures emerged through it, disgorging into the once pristine corridor a cloud of acrid smoke, dust and debris.
'I told you not to push it that high!' said the first figure irritably.  'You knew the wiring was dodgy.'
'I'm sorry,' squeaked the second figure, as he trotted dutifully aside his annoyed colleague.  'I knew we had problems but I didn't think it was this bad.'
'Well it just got a whole lot bloody worse, didn't it?' shouted the first figure.  'I'll tell you this for nothing; I ain't paying for that load of shoddy slapdash.  Outsourcing my arse!'
'I'm sorry…' repeated the downtrodden second figure.  "They came with such glowing references."
'Hah!  I'll give them a glowing reference, right where the sun don't shine!'  The first figure was so wrapped up in his haranguing of his colleague that he walked right past his intended destination: a small end table with a telephone and a lamp sat atop it.  He grunted in annoyance and stomped back to the table, almost knocking his counterpart over in the process.
'What are you doing?' asked the second figure.
'Calling someone who can help us out of this mess,' said the first figure, gruffly.
'But you can't just call anyone in on this!  There's security to consider.'
'Don't panic, I trust him.'
'But who is he?'
'He's family.'
---
'No, no, no!'
'It still won't start, Jim.'James Caplan stood out from under the bonnet of the car that he was working on to face his colleague.
'I can see that, Captain Obvious,' he said irritably.'What does the diagnostic say now?'
'That the car still won't start.'James sighed and ran his fingers through his hair.I know he means well, he thought, but honestly, a nodding bloody dog would be more useful right now.
'…and in other news,' came the tinny voice of the newsreader.  'The Deputy Prime Minister gave a press conference today stating that he is overseeing matters while the Prime Minister is away on holiday.'  James tutted to himself and rolled his eyes as he entered his office.
'Bloody puppets, the lot of 'em,' he said, half to himself and half to his colleague who was holding out the phone receiver towards him.James sat down heavily in his chair before being handed the receiver.
'Caplan Motors?' he said, as professionally as he could manage.
'Jimmy, my boy!' came the voice at the other end of the telephone.James froze and in an instant he was catapulted back through the years to his childhood.No one called him Jimmy, no one except…
'…Uncle Juniper?' he said, tentatively.
'Sharp as a tack as always,' came the voice.'I always said you were the clever one.'
'So, how's my favourite nephew?Blimey, how long has it been?'
'Um…thirty years or so,' said James, shakily.James' colleague who had handed him the phone was giving him a questioning look but James shooed him out of the office with a wave of his hand.Once the office door was closed James turned his seat around so that those in the garage could not see his face.
'Really, thirty years?' said the apparent uncle Juniper.'Lordy, how time does fly.'
'Erm…yeah,' said James, who was at a loss for words.
'So, how's the family?'James frowned at this question.
'How do you know I'm even married?We've not seen each for three decades!'
'Oh, I like to keep tabs on things, you know.'
'No, I don't know,' said James, feeling somewhat bolder.'How do I know you're even who you say you are?How do I know this isn't some kind of con?'
'Jimmy, I wouldn't dream of such a thing.It's me for sure, large as life.'
'But that's just the point,' said James, feeling as if he were nearing some kind of conversational victory with whoever it was on the other end of the phone.'Juniper Caplan died when I was a kid!'
'Oh no Jimmy, I'm very much alive.'
'That was nice of you,' said the man claiming to be James' supposedly dead uncle.'Because I didn't.'Silence hung in the air for a moment or two while James attempted to process what he had just been told.Quickly the confusion turned to anger.
'Now you listen to me, whoever you are.Whatever it is you're selling, I'm not buying do you hear me? And I've a good mind to report you for harassment.Pretending to be my dead uncle; that's just sick!'
'Fair's fair Jimmy.I guess it has been a while, hasn't it?You've no reason to trust me, I suppose.Tell me this though.'
'How long did you play with that green and red lorry that I bought you that one Christmas before you broke it?'James was stunned.His grip on the receiver loosened and it nearly fell from his hand.
'What…what did you say?' asked James unsteadily.
'Didn't manage a day, did you?' said Juniper smugly.'Played with it too rough, like your dear old Mum warned you against, and smashed the thing behind your Dad's shed.'James sat aghast.He had never told anyone about that lorry before, mostly because he had completely forgotten all about it, but this man, his supposed uncle, had all the details, which was troubling.Not for the first time in the conversation, James frowned in confusion.
'How do you even know about that?' he asked, genuinely bemused.'No one ever found out about that because I…'
'Tossed it in the bin before you could get caught, didn't you?You naughty little boy.' Juniper chuckled merrily down the phone, confusing James even further.
'But how…?'
'Like I said, Jimmy.I like to keep tabs on things.'
'What, even my family's rubbish bins?Juniper chuckled again.
'The point is do you believe me now?'
'Well…' began James.He desperately wanted to be wrong about this, because it felt so strange, and he felt like he was being played for a fool.However, his uncle Juniper had bought him a green and red lorry one Christmas when James was a boy.He had been warned by his mother not to play with it too roughly in case he broke it.He had taken it into the garden on Christmas morning to play with it in the frozen dirt behind his father's shed.He also had broken it and thrown away the evidence, fearful that he would get into trouble if anyone ever found out.
So how did this man know about it all?
'Look, I can tell this is a lot to take in,' said Juniper reasonably.'I understand it's not rightly fair of me dropping out of the clear blue like this after so long.The truth is, Jimmy, I need your help.'
'My help?'
'I…don't understand,' said James, feeling that truer words were never spoken.
'You will.I'll be in touch.Good talking to you again, Jimmy.'As quickly as it came, the phone call was over.James sat dumbfounded until the dial tone of his telephone told him to replace the receiver.He sat there for a moment, thinking about the conversation that he had just had and what it could possibly mean.He was brought out of his pondering by a knock at the door.
'Everything okay, Jim?' asked one of his employees.
'Only it's closing time.Last car's gone.Are we okay to lock up?'
'Oh yes, yes, that's fine.'James could hear himself talking but he was not engaging with the conversation at all.His mind was still feebly grappling with the possibility that his uncle was still alive and may have even faked his own death.
'See you tomorrow then, Jim,' said the employee.
'Hmm,' said James wordlessly in affirmation.Snapping back to reality, James looked quickly at his desk calendar and called after the employee who was closing the door to the office.'No, wait.I'm not in tomorrow.It's my birthday.'
'Oh, well happy birthday for tomorrow then,' smiled the employee.
'Thanks,' said James, as he prepared to go home for the evening.
Well, he thought, as he got into his car, I've had less strange birthday presents and that's for sure.Turning the key in the ignition, James was about to pull out of his parking space when something caught his eye.Something small and white had been placed under one of the windscreen wipers of his car.He tutted in immediate annoyance, thinking it was some advert someone had seen fit to leave there.James got out of the car and snatched the small, rectangular card from under the wiper and was about to throw it away when it got his full attention.It did not appear to be advertising anything, at least not anything James had ever come across before.On one side of the card was some kind of logo: a depiction of a large human eye.This eye, though, had an image of the British Isles where the pupil and iris would normally be.Wondering what it could be, James turned the card over and almost fell backwards when he saw what was written on the other side.It said, as clear as day: See you tomorrow, Jimmy.Looking frantically about him, James scanned the immediate area to see if he could spot anyone suspicious walking away.He quickly got down on his hands and knees and checked under his car; for what he was not sure.Standing up, he walked a quick circuit of the car park looking for anything out of the ordinary, but all was normal.
Normal, except for the card.
James turned the small card over and over in his hand, looking at it in puzzlement.There was no phone number, no web or e-mail address, no means of contact that he could see.James' eyes fell upon the very lockable and locked wrought iron gates that kept Caplan Motors' private car park private and a sudden thought sent a sliver of ice snaking down into his stomach.
How the hell had they gotten in?
In an instant James' hand dived into his trouser pocket and he was unlocking his mobile phone ready to call the police before he stopped himself.If he did call the police what would he say?That he had received a phone call from an uncle he'd presumed dead for the last thirty years, either that or a very well-informed con artist?Not to mention that someone somehow had gotten this card under his windscreen wiper in a locked private car park that was meant to be damn near impossible to break into, or at least so the security salesman had said.James looked around the car park again for any sign of forced entry but he could see none.The gates remained locked, the surrounding walls were too high to climb, plus they were topped with metal security spikes.The break-in that Caplan Motors had suffered a few years back had resulted in James beefing up the company's security.He had even paid to have CCTV cameras installed...
The cameras!
James spun on his heel and ran back into the building, almost colliding with an employee who was about to leave.
'Forget something, Jim?' he asked.James grunted something in reply as he barrelled past the man and headed straight for his office.He fumbled with his keys and swore under his breath as he irritably tried to unlock his office door.Taking a steadying breath, he managed to slam the key home and as soon as the door was unlocked James swooped on the four small monitors that were stacked two by two on a small table in the corner of his office.He quickly surveyed them to see if anything was amiss but just as it had looked standing in the car park everything was normal.He pulled his chair from beside his desk and sat down in front of the monitors, frowning with concentration.
How do I do this again?
James cursed his lack of computer skills and a fleeting memory sent him back to when he had ordered this CCTV system.The installer had tried to explain how to use it and James had nodded mutely throughout, hoping against hope that he remembered any of it.Now, faced with an actual need to use the damn thing he wished he had taken notes.He started at the screen that showed the car park and dimly recalled something about being able to rewind through the day's footage.
But how?
- July 2014
- To be continued...