The Machines of Power - Part 3 of 9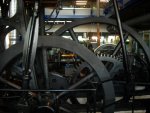 Sat, 27 Sep 2014
'Oh yes, perfectly, my good man.'He flashed a winning smile and pulled a crisp ten pound note out of an inner pocket.'Keep 'em coming.'Bob took the note and eyed Juniper with no small amount of suspicion.
'Same again, Jim?'James noticed Bob's expression as he asked about another drink.It was checking to see if everything really was alright.For a moment James considered telling Bob, the whole bar, anyone who would listen that this crazy old man was stalking him and to get him out of his sight but there was now something in Juniper's expression that gave him pause.The old man's eyes were fixed on him and they had a determined glaze to them.Considering this man knew where James worked and which pub was his local it was a good chance that he knew where he lived.He probably knew where Kathryn worked, where Lucy went to school.The rampant possibilities danced in his mind, naked and fearful, and he reasoned that if he could just find out what this old man wanted then perhaps this could all be over sooner.If he caused a scene now and tried to walk away who knows how it could end.James shook himself free of some disturbing thoughts and decided that, for the time being, it was probably best to hear his uncle out.
'Yes please Bob.Thanks.'Satisfied that James could handle whatever was going on between the two men, Bob made his way back to the bar to pour them more drinks.When James looked back to Juniper he was smiling again.
'Good boy, Jimmy.Can't be too careful, eh?'James frowned at his uncle and leaned in to address him.
'What's going on here, Juniper?Why are you here?Why now?Why make everyone think you were dead all those years ago?'The two men sat up again as Bob returned with their drinks.They thanked the landlord and quickly resumed their conversation once Bob was safely out of earshot.
'Had to disappear, Jimmy.Had to.'
'You had to fake your own death?'
''Fraid so.'
'But why?'
'What do you do?' interrupted James.
'All in good time, Jimmy.All in good time.'
'No, I want some answers now!You show up out of the blue after thirty years of me thinking that you were dead.You phone me at work meaning that you know God knows what else about me.Then, after I speak to you I get a card from you under my windscreen wiper…which reminds me.How the bloody hell did you manage to get into our car park?'
'We have our ways, Jimmy.'
'You're good at fixing things, aren't you?' asked Juniper, almost as if he had not listened to anything James had just said.
'Ah but you see,' said Juniper, smiling again and taking another sip of his drink.'That has everything to do with it.'
'Fair's fair, Jimmy.Fair's fair.But you are, aren't you?You're a dab hand at fixing pretty much anything, right?'
'Well yes, I suppose so,' said James, still unsure as to what this had to do with anything.The truth was, James Caplan was more than a dab hand at fixing things.Providing it was not a computer, which James swore were the invention of the Devil, he could fix just about anything given the right tools and enough time.
'That's why I need your help, Jimmy my boy.I need you to fix something for me.'
'What, you mean like your car?'Juniper chuckled.
'No, no.It's a little more complicated than that.Well, a lot more complicated if I'm being truthful.'
'What is?What do you need fixing?And why me?'
'Because I need someone I can trust.And if you can't trust family then who can you, eh?'
'I still don't understand,' said James, wondering what it was that could be so important as to bring his uncle out of supposed hiding after all these years and look his nephew up for his skill with machines.
'I'll wager you don't,' said Juniper sagely.'Look Jimmy, I'm real sorry for the whole cloak and dagger routine, but when this is all said and done you'll understand why it had to be this way.'
'Why what had to be this way?If you want my help so badly why can't you tell me what's going on?'
'I can.And I will.All in good time.'James opened his mouth to protest but Juniper held up a hand and continued.'I couldn't tell you over the phone because I hadn't looked you in the eye.Now I have I feel we can do business together.I can't tell you anymore now though.'
'Why not?' asked James, desperate to make sense of any of what was going on.
'Because you wouldn't believe me.'
'I might.'
'Trust me Jimmy, you wouldn't.Answer me one thing though.Are you a man of your word?'
'I…I like to think so, yes.'
''Course you are, you're a Caplan!I just needed to hear you say it.So, as you're a man of your word I need you to promise that you won't tell anyone about what you're going to do for me.Ever.'
'Well wait a minute,' said James, sitting back in his chair and looking curiously at his uncle.'How do you know that I'm going to help you?I haven't said yes or anything yet.'
'You will, Jimmy.You will.'The smile on his uncle's face was infuriating James.Why couldn't he just come out and ask him without all of this beating about the bush?James Caplan was not a man to turn his back on family, even family who were supposed to be dead, but if he was going to help Juniper out he wanted to know what he was getting himself into.
As James was processing as much of what he had been told as he could Juniper drained the last drops of his drink and stood up.
'Well, it's been a pleasure, Jimmy my boy.'He fished an envelope out his pocket and slid it across the table towards his nephew.'Here's my offer.Don't open it until you're somewhere private, and I'd make sure you were sitting down when you do so.On the toilet would probably be best.'
'But…' began James.
'I would say give my love to Kathryn and Lucy but of course they've never met me, have they?'
'But…' repeated James.
'Trust me, Jimmy.I wouldn't be bothering you with this if I didn't need to, but I need someone with your skills and you're the only man I want on a job this big.The letter will tell you all you need to know, for now.'
'But…' said James one last time, as he looked in complete bewilderment from his uncle to the envelope that now sat before him.
'See you soon, Jimmy.I'll be in touch.'Juniper laid a hand on James' shoulder, gave him one last smile and was gone.James sat in silence for a moment or two trying to take in everything that had just happened.His mouth had gone dry again so he took another sip of his pint.As he put the glass back down on the table he eyed the envelope that Juniper had given him with a heady mixture of curiosity and confusion.He drummed his fingers absentmindedly on the table for a second before a thought struck him.The answers he so desperately craved could be contained within the plain manila envelope.Wanting more than anything in that moment to make sense of what was going on, James picked up the envelope and was about to open it when his mobile phone started ringing.James dropped the envelope back on to the table and fished his phone out of his pocket.It was an unknown number.Thinking it might be a customer James answered automatically.
'James Caplan?'
'Not yet, Jimmy,' came the now all too familiar voice of Juniper from the other end of the phone.'Open it when you get home.'
James promptly dropped his phone.The resultant clunk caused a few nearby drinkers to look his way.
No, he thought to himself.This is going too far.James tentatively picked up his phone as if it might explode at any moment and brought it back up to his ear.
'J…Juniper?' said James uncertainly.
'The very same,' said Juniper convivially, but with an unmistakable tone of admonishment in his voice.'I thought I told you to look over my offer in private.'
'But…how…?' spluttered James.His uncle had left the pub a good five minutes ago.Had he crept back in to spy on him some more, James wondered.He looked about him to see if he could catch any sign of Juniper lurking in another corner or peering at him from around some other pub goer, but James could not see anything out of the ordinary.As he looked this way and that he heard a chuckle in his ear.
'Don't bother looking for me, Jimmy, because I ain't there anymore.'James stiffened and almost knocked his drink off of the table.He could feel the unpleasant prickle of a nervous sweat coming on.He ran his hand twitchily across his mouth as his eyes bulged in their sockets.
'How are you doing this?' said James, practically in a whimper.
'You'll see, Jimmy. You'll see.But I'm not trying to scare you or anything.I just have a notion of what my offer's going to do to you and I think it'd be best for all of us if you were by yourself when it did.'
'But how did you know?' asked James, almost pleading with his uncle.
'That you were about to open the envelope in the middle of a busy pub and send this entire job right round the S bend?'
James tried to speak but no words came out.
'I just knew,' said Juniper.'Look Jimmy, finish your drink.Have a few more.It's your birthday, after all.Then, when you're at home and have a few minutes to yourself go over my offer.It won't tell you everything because it can't.This is high security stuff, Jimmy.I couldn't risk putting everything in that envelope.What if it fell into the wrong hands?That ain't worth thinking about, believe me.'
'But…' said James, who was still unable to find any other words to say.
'Just trust me on this, Jimmy.Please.You'll understand in time.I promise.'
Juniper had hung up.James quickly redialled the number that Juniper had phoned him on but his ear was hit instantly with the dead line tone.James sat in ever more confused silence for a moment, staring at his phone as it continued to remind him that the number he was trying to reach was out of service.James ended the call and sat motionless for what felt like the rest of the night.Looking up, he saw that barely ten minutes had elapsed.He took another look at the envelope, cast his eyes about him again just in case Juniper really was watching him and pocketed it.He then picked up his pint glass and drank the remnants.Birthday or no, he was going to find out what this was about as soon as he could.
'Not staying, Jim?' called Bob, as James made his way to the door.
'Sorry, I've got to go,' stammered James.'I…I feel a little off.'
'Oh well, you get yourself home and take it easy.'  James nodded and smiled weakly.  The walk from the pub to his house was a daze and when he reached his front door he took a cautious look around him before finally entering his house, the envelope tucked away inside his coat pocket.
- July 2014
- To be continued