The Machines of Power - Part 8 of 9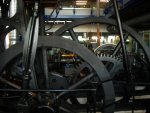 Wed, 01 Oct 2014
'Yeah, we've not used real politicians in years.'
'Really?'
'Oh yeah.  Apart from some silly sod thinking that we could save a few quid by skimping on quality repairs, our robots have worked fine.'
'Who…?' began James, but before he could continue Grapeshot came bustling towards them with a laden tea tray.  Juniper sensed James' question and pointed his eyes in a very meaningful way towards Grapeshot.  James understood at once and did not press the matter further.
'Basically Jimmy, you remember me saying that my Army days got me noticed in high places?'
'Yes.'
'Well, it was about that time, just after the war, that it was reckoned that the way things were being run wasn't doing anyone a whole lot of good.  So, I got picked to run The Institution.'
'Is that what this place is?' asked James, trying desperately to keep up.
'That it is, Jimmy; that it is.  But as what we were doing was top secret we still had to keep a public face, you know?  Couldn't bear the thought of the headaches we'd have if the people knew what was really going on.  So, we cobbled together the best minds we could find, and with a screwdriver here and a soldering iron there we had ourselves a government for the people.'
'But all of the nation's decisions are made here?' said James slowly, working it all through in his mind to make sure he hadn't missed anything.  'There's no actual parliament?  No one actually lives at Number Ten Downing Street?'
'Of course they do,' said Juniper, grinning.  'I do.'
'Oh.'  James thought to protest but felt he was on extremely shaky ground, so he kept his mouth shut.
'Yeah, it seemed like such a waste of a nice house like that.  Plus it's nice and central.'
'What about the Queen?' asked James, the question popping into his head like a firework.  'Is she a robot, too?'
'She most certainly is not!' said Grapeshot, haughtily.
'Calm down,' said Juniper.  'You'll have to excuse old Grapeshot here, he's a bit of royalist.  No Jimmy, the Queen's as real as you or I.'
'And she knows about all of this?'
'Of course,' said Juniper, matter of factly.  'Who do you think hired me to run this place?'
'The Queen hired you?' asked James, taken aback.
'Who else did you expect?'  James thought on this for a second and realised that Juniper had a point.  If the British government was really staffed by robots then what other authority figure save the Queen would have the power to initiate something like this?  James couldn't believe what was happening, but what was distressing him more now was that the more he thought about it and the more Juniper explained it to him the more it started to make sense.  It was still the most bizarre thing he had ever heard, but James could not ignore the evidence in front of him.
It was true, he thought.  It was all true.
His uncle was alive.
His uncle practically ran the country.
And the government was made up of robots.
Robots he was supposed to fix.
'What about elections and things like that?' asked James.
'A mere show for the populace,' said Grapeshot, dismissively.  Juniper cut in quickly as he noticed the rising look of indignation on James' face.
'It's not as bad as that, Jimmy.  We listen to what the people want and do our best to give it to them.'
'But it's still you lot running things?'
'Pretty much.'
'But what about democracy?' asked James, pressingly.  'What about the people having their say?'
'Jimmy, do you know how many people in the country can't even be bothered to vote?  It doesn't matter who's in power to some people, they just naturally mistrust authority.'
'But I vote!' said James, defensively.  'Are you saying that my vote doesn't count?'
'Of course it counts,' said Juniper.  'Like I said, we hold elections to see the way the wind is blowing and we do what needs doing based on that.  We change the government around whenever necessary and that's been good enough for those that pay attention to politics.  As for the buggers who couldn't give a toss, we look after them all the same, but if they don't vote and tell us what they think then how are we supposed to know what they want?  We ain't mind-readers, Jimmy!'
'But how fair a system is that?' asked James, feeling as if a cornerstone of what he could comfortably rely on as normalcy was being violently jerked out of his grip.  'Democracy is supposed to be representation of the people!'
'Ah, but you see, Jimmy,' said Juniper, leaning in his chair a little and fixing James with a knowing look.  'Democracy can only be a true representation of the people if all of the people take part, and seeing as that ain't going to happen unless we drag people kicking and screaming to the polling stations, the way we run things is no less fair than the way they were before.'  James opened his mouth to speak but shut it again.  He wanted to argue against what Juniper had just said, but he couldn't.  How many times, he thought to himself, had he heard people disparage the government?  How many times had he heard people say that they didn't vote because they didn't feel it made a difference?  Part of James didn't want to accept a society wherein people's votes had no bearing on changes in power, but once again the evidence was right in front of him, smugly pointing out how everything he was finding so hard to believe was already happening and had been happening for a long time.  James sagged in his chair as the fight seemed to drain out of his body.  Whatever moral issues James had with the system as outlined by his uncle, the bare fact that it all seemed to work refused to go away.  There were faults, of course, there had to be.  James knew that there was no such thing as a perfect system or a perfect society, and for a moment he felt a touch of gratitude that Juniper wasn't using his power to force people to be better.  He was letting people be people, and that was something at least.
'Custard cream?' asked Grapeshot, fastidiously interrupting James' train of thought with a small plate of biscuits.  James took one.
'So what exactly is wrong with these…things?' asked James, indicating the politician robots that surrounded him.
'Buggered if I know, Jimmy,' said Juniper, shrugging.  'That's why we need you.  If I could have fixed them on my own I would have and you wouldn't have been dragged into all of this.'
'So they're all broken?' asked James, as he took another bite of his biscuit.
'No, not all,' said Grapeshot, with a definite hint of gratitude in his voice that this was not the case.  'But enough of the, shall we say, main players, to give us quite the headache.'  James looked at Juniper and raised his eyebrows questioningly.  He could not talk, as he still had a mouthful of custard cream.
'What he means, Jimmy, is that the ones you see on the telly, they're the ones that have broken.  Flaming typical, ain't it?  We still have plenty that work but it would raise far too many questions if we started putting lower characters on the totem on Prime Minister's Question Time and the News at Ten.  We've done the best we can for now by putting it about that the PM is away on holiday, and we're just bloody lucky that this happened during the annual recess.  I don't even want to think about what would have happened if it had happened at any other time.'
'So I don't have to fix them all?' asked James, sensing his workload was perhaps not as extensive as he first feared.
'Well, not right now, no,' said Juniper, shifting a little in his chair.
'What do you mean "not right now"?' asked James, with more than a hint of suspicion in his voice.
'I won't lie to you, Jimmy.  This isn't a one-off job.'
'It isn't?'
'Believe me, I wish it was.  But if something like this can happen once it can happen again, and I'll sleep a lot better at night knowing we have a man on side who I can trust.'
'What are you saying?'  James didn't like where the conversation was going, and he felt that it was going to get worse way before it got better.
'We are saying, Mister Caplan,' interjected Grapeshot.  'That should we require your services again in the future, we need to know that you can be counted upon to answer our call.'
'But I already have a job,' protested James.  'I run a business.  I can't just leave all that behind to be your personal repair man!'
'No one's asking you to do that, Jimmy,' said Juniper, calmly.  'Hopefully a breakdown of this size won't happen again, but we'd be fools if we thought it totally impossible.  That's why we need you now and that's why we may need you again down the line.'  James let out a long sigh and ran his fingers through his hair.  He wasn't even sure he could do this job once, let alone whenever it happened again.  Agreeing to something like this, he thought, was fully admitting the existence of such an absurd set of circumstances, and there was still quite a large part of James that was struggling to come to terms with them.  He looked into the expectant faces of Juniper and Grapeshot, both of them hanging on for whatever answer James might give them.
'So if I do this…' he began.
'You will be handsomely compensated,' said Grapeshot, eagerly.
'I know it's a lot to ask, Jimmy, but you've seen what we do here.  We can't have any old Johnny clapping eyes on this sort of thing.'  Juniper waved a hand at the mass of robots that filled the workshop.  'And you're the best at what you do.  Plus, you're family.'
'Doesn't look like I have a lot of choice,' said James, resignedly.
'I wish it didn't have to be this way, Jimmy,' said Juniper, consolingly.  'But this is the hand we've been dealt.  And trust me, playing it is going to be a lot less hassle than not.'
'What about the garage?' asked James; keen to cover all bases before he actually agreed to anything.  'I can't take too much time off with no explanation.  The lads there depend on me.'
'And they're right to do so,' said Juniper, proudly.  'It's a fine ship you run over there, Jimmy my boy.'  James smiled weakly at the compliment before Juniper continued.  'But we'll only ever call on you when we need to, and that's a cast iron promise.'
'So, I won't have to give up the business?' asked James; sounding a little more hopeful.
'Course not,' said Juniper, reassuringly.  'Do this job right for us, Jimmy, and fingers crossed we won't have to call on you for a long time.'
'What about ongoing maintenance?'  This thought struck James like a blow to the stomach.  He had no idea how much upkeep these robots needed and he didn't much fancy the idea of making the long drive to and from his uncle's secret government control centre every time one of the cabinet blew a fuse.
'Oh we can handle that,' said Juniper; waving a hand dismissively.  'We've been managing for this long, haven't we?  No, we called you in because this is a big job; bigger than anyone here can handle.  So, as I say, touch wood we won't have to call on you very often.  Only when it really hits the fan.'  James sat back in his chair and contemplated the job that was in front of him.  Providing he could do it, he was looking at a hopeful one-off.  A one-off that meant he wouldn't have to give up Caplan Motors.  He thought of his employees, of Kathryn and Lucy, of his home and the pile of bills…
The bills.
James thought about what both Juniper and Grapeshot had said about him being compensated for his time; about how Juniper had somehow known about the bills that were mounting up within the Caplan household.  James did feel a little guilty thinking about money in connection to this job, considering it seemed that his uncle was really in a bind, but James could not escape the fact that he had bills to pay.
'Erm, Juniper?' he said, tentatively.
'Yes, Jimmy?'
'I don't like to bring this up, but this is a paid job, right?'  James hated the way his voice sounded.  He didn't like talking money until it was absolutely necessary, but he had to know.
'Of course it is,' said Juniper, smiling.  'You think we'd drag you out here and drop all of this in your lap and not pay you?'  James returned the smile, but it was still weak.  He still didn't feel like there was a lot to smile about in this situation.
'As previously mentioned,' said Grapeshot, importantly.  'You services will be handsomely rewarded, due to the delicate nature of our little problem.'
'Put it this way, Jimmy,' said Juniper; leaning in towards his nephew again.  'You know that stack of bills sitting on the side in your kitchen?'
James nodded.
'Forget 'em.'  Juniper sat back and smiled again.  The look in his eyes told James everything he needed to know.  They didn't need to talk amounts or anything like that.  James knew in that moment that if he could help his uncle then his uncle would help him.
Family.
'Okay,' said James; reaching a mental conclusion.  'Let's do it.'
'Excellent!' said Grapeshot, as he clapped his hands together.
'That's my boy,' said Juniper, proudly.
'Where do I start?' asked James; as he looked around the workshop.
'Right here,' said Juniper, laying a hand on the robotic Prime Minister.  'We've got this chappie scheduled for a TV appearance later on today so we need to get cracking.'
'Today?' said James; as panic crept up his throat.  'But I've not even started yet!'
'Sorry, Jimmy, but this bugger's been on holiday long enough.  How are people supposed to have faith in their politicians if they're swanning off on their jollies for weeks at a time?'  James looked into the blank face of the Prime Minister and tried to keep his cool.
Think of them as machines, he told himself.  He picked up a screwdriver and turned to face Juniper.
'Fetch me a rolling board.'
- July 2014
- To be concluded...