The Machines of Power - Part 9 of 9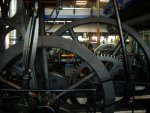 Wed, 01 Oct 2014
That evening, as millions of people sat down to catch the day's events on the news, it was announced that the Prime Minister had returned from his holiday.  The impeccably groomed newsreader handed off to a live feed from Number 10 Downing Street, and the equally groomed Prime Minister delivered an address in typically smooth and measured style.
Little did the nation know that behind the plush curtained backdrop sat a small, elderly man in a crisp pinstripe suit, holding a microphone in one hand and a custard cream biscuit in the other.  Juniper Caplan spoke the words that the Prime Minister delivered, and none were the wiser.
While all of this was going on, James Caplan lay on his back under the Prime Minister's podium, a screwdriver clenched between his teeth, as he made some last minute adjustments.
And none were the wiser.
The End
- July 2014