That Field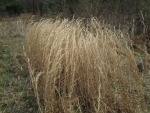 Sat, 22 Feb 2014
2 likes
THAT FIELD
That field, the one in my fantasies, it was out HWY 234 or HWY 288.  It really doesn't matter because you cannot go there anymore.  The physical location is gone.  I can only dream about it.
Back in the day if you drove far out of town until there was nothing on either side of the road, you could find it. Just when you start to wonder why anyone would come out this way (there is nothing here), you would see Robbie's Garage on the left side of the road.
Turn your car in and cross over a rickety, rumbling and clattering wooden bridge. Drive up the spitting gravel into the field behind the garage.  There is a little white trailer with a blue stripe.  It's not there anymore either.  It burned down a long time ago.
The field, except for a small area mown for the trailer, is a wash of pale yellow weeds that turn golden in the sun.  I used to think this was what winter wheat would look like, sheaves of gold.  But this is Kentucky and they are just weeds.
When the sun made them shine gold and the wind made them bow down, flutter, and rise like waves, we children would go out to play.  There was an enormous tree far out the field.  It took four children extending their hands to barely fingertips to surround it.  Happily, we were four children then.
I expect that haunting tree is gone by now too.  They must have used a backhoe because no wind or lightening could ever bring it down.
For our picnics, there is a small stand of climb-able trees and a nearby trickling stream or brook. It was small and always ran clean.  The water was super cold even in the hottest summer.  We stashed our drinks there, held in place by rocks, to keep them cold while we played.
We carried our snacks in foil wrap.  After we ate we could make boats and chase them as they floated down stream.  We never went back to the trailer for we were in hiding.
With all of those weeds as high as your waist, we formed our secret homes or nests.  Using our bodies and woolen blankets, we would flatten out our rooms and our hallways to yet more rooms.  My brother was a great help with this.  He was an expert planner.  Afterwards, we hid in our peaceful homes.   You could not see us at if we were lying down.  The beautiful weeds keep us hidden.
That is the place you won't go with me.  Far away from the evil in that trailer, back to a golden spring/fall/ or summer day. I wanted to take you by the hand and lead you into the tall weeds.
I would have brought drinks, snacks, and even sunscreen with a blanket to lie on.  We could have watched the weeds bow and wave to the wind.  You would roll over to shield your eyes from the sun.
Do I have to go on...