Judy and me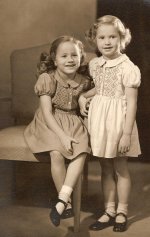 Thu, 10 Apr 2014
 When Judy was 4, I was
in thrall to her,
following her every
command
When cutting her
finger, nothing would do
My shared cut was part
of her plan.
When Judy was 5, she
was upset with me,
growing what seemed
very tall
We sang for our
friends, but only if she
could stand on a fat
catalogue.
When Judy was 6, I was
so sick for her,
missing her and feeling
so small
But on coming home, she
taught me some sums
and spelling and
reading and all.
When Judy was 7, we
played a duet
contesting our childish
talent
"Stop, you're too fast,"
it had to be her
We started again, and
we won.
When Judy was 16, my
teacher said
I wasted my talents –
Hell to pay
Jude took up my cause,
said I played for the church
So "sorry" Nun said, but
no As.
When Judy was 18, I was
so glad
having a room and a
bed all my own
Being allowed to think
for myself
But still her influence
told.
When Judy was 21, she
looked to me
to help her in learning
to drive,
I'd been driving for
four years by then,
my pride somehow
managed to survive.
When Judy was 24, she
said to me,
the new bride, a new
country the plan
"How can you leave
us?" but I didn't care
I'd an adventure to
have in England.
When Judy was 26, she
had a babe
to match what we had
just had.
And another at 27, how
silly was that,
A girl first, and then
a small lad.
When Judy was 32, she
got a dog
to substitute for my
youngest babe
She devoted her life to
helping her kids
to develop and to learn
to behave.
When Judy was 35, she
got a babe
while we had a dog on
our minds.
A few years later, she
had a shock
As twins brought her
total to five.
When Judy was 40, we
wrote every week
Our visits were both
here and there.
Our kids were close and
even shared
our dimples and colour
of hair.
When Judy was 52 she
came here to see
Our youngest girl walk
down the aisle
But her tummy was taut
and her appetite poor
couldn't wait to return
all those miles.
When Judy was 52, I
went to see her
as she lost all her
hair and her pep
She was hardly awake,
but smiled as she said
The doctor says now's
the last step.
When Judy was 53 she
quietly died
and was laid in her
coffin so flat
I'll remember her
lessons as long as I live
No better can I say
than that.