The Season of Migration (I.P.)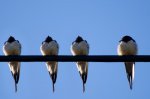 Fri, 11 Apr 2014
1 likes
Dusk fast falling,
and I contemplate the day; 
how I'd seen the first swallow
of the season, and how I hope
they return to their nest in the barn 
again this year.
Cinereous – grow the trees
and in the half-light – think about
the thousands of miles these creatures
travel in their annual migration,
and it bothers me that she, no longer 
witnesses this thing...
watching them gather 
in their twittering masses
on the power lines – seeing them
dip and dive – drinking from the pond 
and bagging the flies.
But maybe, the spirit has no need
for mundane pleasures such as these...
replete, perhaps, in itself; as hard
to imagine as to grasp I'll never
see her again, 
but the swallows
know nothing of this...their instinct
driving them on, as sure as the tug of the moon
on the tide, they will survive, and little
would they care, of such a small,
ceasing to be.