In The Springtime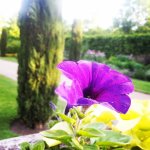 Sat, 10 May 2014
1 likes
Millie steps out in her shame-soaked sweatshirt.
Gleaming blocks of sun kissed mist slide
            between the white columns and through the archways.
The gold gravel path ruckles under her march.
Through their pearly shells of morning dew,
            the daffodils and bluebells bow to her in awe.
Millie!
Her name a muddle of pride, guilt and grace.
Millie!
High in the crackling leaves of the trees,
            choirs of songbirds ping pong between sunrise gossip and
            their chorus of pastoral bacchanal.
You left your jacket!
The ground brustles as Millie turns on her flat heels to greet the
            Boy again.
You forgot your jacket.
The scents of just-shawn lawn and baking bread leap in her
            lungs.
Although you might not need it today.
He brings his eyes back down from the trees to hand her
            her neglected garment.
She clutches the cold leather to her chest,
            between crossed arms.
Well... see you in class.
Yeah, see you.
Okay.
Okay.