Ch1: Stolen May 14th part 1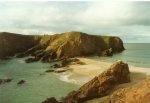 Thu, 15 May 2014
I set myself free today.
I'm waiting for the house to go quiet, waiting for them to be asleep so I can make my escape. The time has come, for me to spread my wings and be free, even if for only a few days. Need space, need time, need to heal, and I can't do it here. My suitcase is packed, my train tickets are purchased, and they sleep, oblivious. I simply can't go on here, in this house. I'll suffocate, die a slow death. Too much love can kill, you know. It's gone two in the morning. Surely they are deep in dreamland by now.
Feeling like a thief in my own house, I creep from my room, carrying a small suitcase. Those stupid bells Mum put on the front door are going to be my undoing. It's so she can hear if someone tries to sneak into the house. Works the same when you're trying to sneak out as I am now.
Somehow I get the door open without the damn bells going off and slip out into the night. It's cool, but not cold. The light jacket I've put on is just fine. It's going to be colder where I'm going, hopefully the thicker jacket I packed away will be enough. Once I'm on the pavement, I dare to put the suitcase down. My arms are aching from holding it. The handle makes a loud noise as I pull it out, snapping loudly in the quiet of the night. I glance up at Mum and Dad's window, expecting a light to go on, curtains to be thrown aside, a face to appear and yell at me, but all remains as it is.
The wheels on the suitcase make a horrid noise and I run off and out of sight around the corner. My heart's beating hard, hurting my chest. But I've done it, I've escaped. Slowing down, I walk to the station.
It's shuttered up and closed for the night. First train is just before six am, and I have two and a half hours to wait. I sit on my suitcase and wrap my arms around me. My heart's beating hard again, but for a different reason. It's excitement, and nerves and sadness all wrapped into one.
"I miss you, Chris," I say to the empty space next to me, and think of him. This trip is for him, in his honour. A week or two away, and then when I come back, I'll find a place of my own. Time to break away, to forge my own way in this horrible and wonderful world we live in.
Five-thirty comes and there's a few people waiting for the station to open. A train man arrives looking tired and lifts the shutter, unlocks the door and lets us in. I've got my ticket already so I go to the platform. Soon there are more people that I expected waiting for the five fifty-eight train to Liverpool. I'm surrounded by people in suits carrying briefcases. I'm in the early commuter crowd.
Finally, the train rolls into the station, breathing out air from the brakes and the doors wheezing open. For a moment I think I'm getting into a dragon's belly. Exactly what am I doing? Running away from home? Surely at twenty-years-old it means I'm not running away. This should be an adventure, or at the very least a time to heal. Before the doors can close without me, I jump on and take a window seat, my suitcase taking up the aisle seat. I want to be left alone. If someone tries to talk to me I think I might burst into tears. The suitcase gives me a barrier, besides, the train is quite empty.
The train rolls into Liverpool Lime Street Station just before six-thirty. The sun hasn't quite come up, but the sky is that raw red colour that tells me stormy weather might be on the way. Seems fitting, and I wish for rain-heavy clouds. I want to ride the train north under a shower.
I need to get across the station for the next train, but I've got twenty minutes to kill. My stomach lets out a rumble so I got to a Costa Coffee and get a muffin and a tea to go. Planning is everything, and I've been thinking about this trip for a long time. I wanted to be incognito, and took out all the cash I thought I'd need. All my savings are with me, almost two thousand pounds. Until the money runs low, I'll be travelling. I'm certain the police can track you if you use your debit card. I don't want to risk that, so cash is my friend.
Just before seven the train to Wigan sets off. I'm still sipping my tea, but all that's left of the muffin is a crumby wrapper. I've got a sandwich and bottle of Sprite in my handbag from home to keep me going until I get to Aberdeen, picked as it's where Chris was born. I want to feel close to him, and other than blindly putting a finger on a map, I couldn't decide where to go. Aberdeen seemed far enough away, and obscure enough that no one will think to look for me there.
I didn't leave Mum and Dad totally in the dark. I left a short note telling them I'd be away for a while, and I'd be back when my money ran out. I wonder if Mum's up yet. She'd be boiling the kettle for her first coffee of the day. Dad would be getting ready to go to the garage. No one will think to check on me. That'll come later when Mum notices that I haven't got up yet. She'll open the door and call my name softly as she tiptoes in. It's all she does now, tiptoe around me. When she sees my empty bed and the note I left on the covers she'll be all tears and wringing of hands, calling Dad and getting him back from the garage.
The train pulls into Wigan and I've only got eight minutes to find the Edinburgh train. A man in a uniform points me in the right direction and I get on with two minutes to spare. This train is crowded and I have to leave my suitcase in the luggage rack. An elderly lady is in the window seat as I check my seat number and take the space next to her. I still can't bear the thought of talking to anyone, and old ladies can be chatty, so I get my iPod out and plug my ears in. I'm in a James Blunt mood. With the music playing and my eyes closed I close myself into my own little world. The rain I wished for is lashing the train, I can hear it over the music, pounding on the roof. The sound comforts me.
The old lady gets off before Edinburgh and a fat man takes her place. He's sweaty and smells of petroleum jelly. He's got one of those little laptops and he's playing some dumb game. The rain is still falling as we approach my stop. I'm glad to get away from fatty, with his weird sideways looks at me, like he ever had a chance. With my coat zipped to my neck and the hood up, I grab my suitcase off the rack and prepare to step foot in Scotland for the first time.
I've got just enough time to use the loo and run to the Aberdeen train. Nerves are building in me now. Maybe I'll get off at and go straight to the ticket booth and get a train back home. This is stupid, how can I escape my life by changing scenery? It was dumb to think I'd feel any different under a new sky.
As I settle into another seat I decide not to make any decisions until I arrive at Aberdeen. I've got three hours on the slow train to clear my head and watch the world go by. Scotland is so different to the softly rounded landscape of the Wirral. Scotland is all sharp hills and purple peaks. There's sheep grazing on empty land, seems hardly anyone lives here. The stations are much better tended than the concrete utilitarian stops where I live. These have flower beds and the effect is pretty, quaint even.
Finally after a long three hours, broken up by the eating of my sandwich, a sleep of an hour and the shuffling music playing on the iPod, the train pulls in. As if by magic the rain clears and the sun comes out. It's an omen, a good one.
The station is beautiful to my eye. There's a huge open space covered in glass and steel arches. I don't know much about architecture, but it looks Victorian to me. Outside the buildings are all yellow and grey stone, huge imposing buildings and suddenly I realise how alone I am. I stand outside the station and I haven't a clue where to go. I researched a few bed and breakfast places to stay in, and pull out the paper from my handbag. For long seconds I hold the paper but can only stare around me. I feel like I'm in a foreign country. Everything looks different. The words coming out of the mouths of passers-by range from softly accented to a thick sounding nasal sound that I don't understand. Even the air smells different. I want to go home. Turn around and catch the next train south.
Then I hear Chris in the back of mind, be brave, he says. And he's right. I came for a reason. I have to make the effort, even if I only stay one day. Next to the station is a shopping centre – the Union Square. It looks very new, with a huge front of glass and metal. I need some time, to sit and think and remember why I've come here. I need to come to terms with why Chris left me. I need to figure out how to move on with my life.
There's a food area in the centre. I'm not hungry, so I order a tea and sit in a large seating area. With my purple suitcase beside me and my handbag on the seat next to me, I watch people come and go. They laugh, they argue, they come in from the rain that's started again. They eat, they drink, they come in groups, in pairs, and some come alone like me. They come with purpose, with bags of purchases, with nothing but the need to be somewhere else, like me. I sit and watch and let my tea go cold.