The Bloody Spikes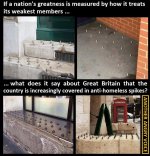 Wed, 11 Jun 2014
The bloody spikes
Like the damnable fences, they came without warning:
No court order, or decree, was seen signed. 
But within sheltered doorways and alcoves, 
They are becoming a far too familiar design. 
They have one form and one purpose:
To cause more indignity suffering and pain 
But as always: with all conservative mandates
That carries here within it the scent of bitter disdain 
"The poor we will always have with us, 
But we would rather that we never could see"
Are the whispered words given by the stately, 
As they dine at chequers for supper or tea. 
So they brush the homeless under the carpet; 
To leave many in such disarray 
For they want a world with their values
And the poor just hidden away. 
Now no hope rests here for the poor
No hope rests here for the meek
No hope rests here for the servants 
No hope: No chances, No seats. 
Is this the world that we wanted? 
Is this the world of the equal?
Are these the men we elected ? 
Or is it a place of neglect? 
So what will happen to these bloody spikes? 
How many will have to die?
Will there be a stadium tragedy 
Before the people outcry? 
Will the bloody spikes be removed, 
As the sickly impoverished nightly walk? 
Or will there be more chatter 
More pointless bloody talk. 
The homeless don't want a hand out, 
They want a help up to start again, 
Because the homeless are there amongst us, 
Some are my dearest friends. 
They are not n just junkies or drunkards or boozed,
They are people just like you and me. 
So get off your arse Mr. Cameron ,
Don't hide like the coward you seem. 
Make a decision, 
Be a real human, 
Stop making our poor nation bleed. 
Those bloody spikes are an insult, 
They are a slap in the face of the poor, 
They need to come down, 
So kick off your proud crown, 
Do something before you are poor.
© adh 2014