Uncovered In Recovery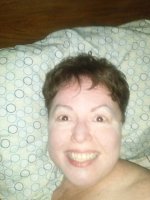 Tue, 10 Jun 2014
After about 13 years in recovery, from alcohol, some drugs and life I relapsed. Everything that I had been told in the rooms of Alcoholics Anonymous was painfully proving to be true. 13 years ago before I stopped drinking I was mixing my vodka with diet pepsi. I know it sounds gross! But I really liked it and there were fewer calories. I was more worried about my weight than my liver. When I started drinking again there was. no mixer. I would chug down vodka, from the largest bottle I could find and follow it with a few swigs of water. Most of the time it made me gag, sometimes vomit. This didn't stop, not even slow me down. I realized that my worst problem and enemy was my 3 pound brain. My brain loved and loves depressants.
Enough of the recap of my near demise. I drank hard for about a year, lost 100 pounds and felt like absolute shit all the time. I forgot to mention I suffer from manic depression and had been off my meds for two years. Looking back this was a horrible mistake. I began to suffer from severe paranoia, a new anxiety condition and my manic depression returned like a tornado and earthquake combined. I would drink all day, not eat, too paranoid to leave the house and sleep, not caring if I woke up.
What made me snap out of this? A dear friend who kept telling me, "we will get through this." Not, "It will get better." I hate that saying, what hogwash. She would call me everyday and come and visit me. I didn't like her coming by but she still did. Her love and gentle support is why I stopped. The thought of letting her down scared me more than anything else.
I guess I am trying to convey it isn't if you help those suffering from addiction and mental illness but how.