Remeber Me Smiling, As I Want You To Keep Living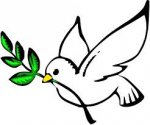 Thu, 10 Jul 2014
It's not for you to bare my pain,
That life deputized for me.
Which stagnates into your present
World and makes It empty.
Such happy times roamed our life,
And although we cannot share the
Same destiny now,I do not want
Yours be marred with so sadness
And regret.
So while I thank you for your love
And all your genuine tears,remember
Me not just for today, isolated in an
unknwon new world,while you sit in
Church and cry.But smiling in
Eternity.
And months or years ahead when I slip
From your memory, even tempory,
Do not worry,for every ray of sunshine,
will be me, smiling behind heavens protective
Wall.For I have serenity now.