Exeter St Thomas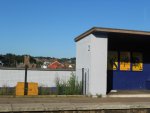 Mon, 14 Jul 2014
A sportswear lad lounges in the white concrete shelter
As I shuttle through the drowsy branchline
Its entrance unmanned.
Inner town generous C19 dignity
Of gravestone church, pram-mother,
Lurcher mutt; infant running-arrow
Through the openfrieze canalside;
The twenties council semis here give backbone.
And Dyer, Coffin, Bunclark from
West Quarter houses that once moved a mile
Write soundly phrased warmhumoured prose
Yet few words fly like birds.
I stickybeak a teacher's marking
And think in half an hour
I know the place!
I think I see them ten years on, driving  Stagecoach
Doubledeckers, nursing in uniforms, managing shops;
Think I feel their family loyalties,
Share their Fatherchristmas Sundayroast,
Think I hear their views on immigration.
What do I know?
I've worked in market research.
I chart the land
As Thistown, Realplace,
Exeter St Thomas.