February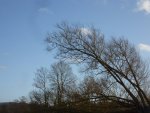 Tue, 03 Feb 2015
1 likes
(as with 'January' this is based on 'Chwefror' [Februrary] by Eifion Wyn)
Rushing, howling wintery winds,
shake my window, shudder door,
throwing withered leaves around me,
whirl the twigs along the floor,
bend the oak, and buffet ship
til it dance and roll and skip:
February brief has shrunken days –
early dusk, and dawn delays.
Powerful, freely blowing, roaming
over hills and sea with zest:
frail ones kept inside their homesteads
hedgehog kept within its nest;
the swallow likes a gentle breeze,
and butterflies the summer warm,
but some enjoy your roaring bluster –
pummelled by a pounding storm.
February winds gust, blast and batter:
cover sea with horses white,
smother hills with drifting blizzards,
booming voice resounds of might,
but if there comes a fragile bleating –
early lamb on lonely field,
may it lie in sheltered hollow,
shielded, from the gale concealed.