Final Tour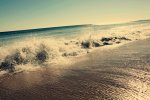 Thu, 26 Mar 2015
1 likes
Yank myself out of bed
Peel the film of sleep from 'round my head
It's 4:00 AM
And all the world is dead.
It's 4:00 AM and all the world is dead.
From the streets every man has fled.
But in hours it again shall be
Brimming with potential; energy set free.
I assemble my appearance.
Staring into the mirror,
I say to myself: "One last time.
"One final tour."
The door is open, before it I stand
To face morning's faint chill
Surrounded by paling blue.
There! The first bird's trill.
The air is sweet
And free of smog.
The faintest fog
Hangs on the trees.
The empty street beckons
And freely I obey.
I have things I need to do
Before the commencement of the day.
I pass the playground on the corner,
Where I wasted time as a child.
Where many a battle was fought
And we had adventures in the wild.
Past the playground and to my left
There is the river bank
Where I went fishing with my father
And my friends and I made our mothers mad:
Where we lit our little fires 
And we had our first drinks.
Where we shared our first joint
And came to talk and think.
Our school is down the way.
We all can safely say
It's the place where we first learned
Classes and books have less to say than the real world
A little further on,
And there's the little store
Where I kissed my first fleeting love
Just outside the door.
I keep walking, I keep walking,
Until I reach the shore.
I put my back against a rock
And rest on that sandy floor.
The life that I'll soon be leaving
Lies behind me asleep
While I watch the sun lazily rise
Over the mysterious, unexplored deep.
I built myself in this town
And it built me as well.
But I cannot stay much longer:
In a few hours I will bid it farewell.
Will I ever make it back? 
Nothing at all is sure.
Therefore I must take this last chance
To make my final tour.