Holly Blue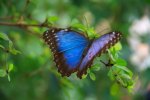 Sun, 19 Apr 2015
Spring's hedgerows; blossoming brambles
and white nettles, await your kiss;
purple seas of love-in-a-mist, meadow vetch,
and sweet, forget-me-nots, pucker their lips, moist  
with honeydew which you craved.
They wait in vain. You will not visit them again,
and if they could, they would surely ask you this.
By whose hand were you ravaged?
Who prized apart your diaphanous wings
pinned you to a board?
You, who would have longed to fold those wings
as a paper plane – be spirited away on death's 
forgiving breath, were it not for your sin; 
that of loveliness.
You, who are Freedom's envoy; 
beauty...crucified.