Black Was Her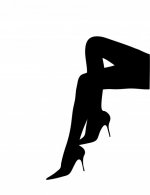 Mon, 20 Apr 2015
1 likes
He'd never really, 
turned her on; unlike
others before him. 
Rather, it was more 
a familiar, everyday 
kind of affair; the way 
she felt about her well worn, 
all forgiving,
sheepskin slippers
she wouldn't trade
in a month of Sundays. 
Albeit, nothing like
the fiery passion
she felt for her lustrous,
black, patent leather
designer, six-inch stilettos.
Uplifting, and yet
uncomfortable as sin.
Wear them until you tilt,
babe!  he'd quipped
on more than one occasion.
Strangely enough, though,
he'd seemed an ordered
kind of man; a dab hand
at gardening. What he
didn't know about the sexing
of plants wasn't worth  the knowing...
not to mention his prowess 
at developing a cross 
hybrid marrow – 
come cucumber... 
and his way with cleaning
her car till it shone, and
he always paid their bills
on time.  Far worse things in  life, 
than being married to him.
And, then, of course,
there was always – her bit
on the side.  Ah, the blessings
of a personal trainer, when
he was away on one of his
all too frequent business trips
to far-flung climes.
Strange then, how her grief 
on his passing, was so palpable,
so intense, so intimate,
she'd  dreamt she was astride him. 
Sweat glistened between
her thighs, her breasts...sheets 
still damp, aromatic from her dream,
sent her rifling through his clothes...
his wardrobe, and more.
Then she found just the thing;
a favourite shirt of his. It smelt
of Old Spice and 1965. Fancied
she heard her name slip off 
his tongue, in its customary
lacklustre tenor. Black lace
she wore that night. 
How her body ached
for him,  in exquisite agony,
and, for the first time, 
she wept.