Banned Books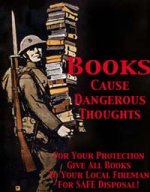 Tue, 05 May 2015
The libraries and bookstores of the world
Are stocked with pleasantries:
Prim, proper, peach juice-oozing volumes
That made the grade.
These books are all well and good,
        And are not unworthy of examination,
Simply because they were deemed so
By a jury of your peers.
Make note, however,
Of the myopia inherent
In limiting yourself
To the savoury.
Observe:
Past the shelves of
        Well-lit,
        Worn-covered
        Thoroughly thumbed delicacies,
There is more to be seen.
Do not hesitate to approach the shelves
Wreathed in thorns and security tape
And kept under dim bulbs.
The books that lurk there
Are sealed tight
And wear jackets plastered in sludge:
Sludge laid thick by heavy-handed brushstrokes.
Prying open the padlock
Will sometimes reveal
Further grime coagulated upon the pages.
Further prying, however,
Will split open tomes
Scrawled with fractures of light,
Lending to the eye
An illumination unique
To such tarred works.
Do not fear these banned books,
These veiled wonders,
For they contain pure, unscreened scrawlings
Soulfully wrought upon simple scraps of paper.
It is within these that truth can be found.