A Small Ceasing to Be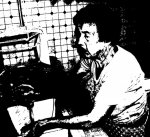 Thu, 14 May 2015
A motley, miscellaneous mélange
of saucepans, soup bowls,
and side-plates
pushed aside by innuendos 
and the lingering of a soft-shuttered,
Sunday lunchtime.
A school blouse in soak 
in suds in the sink...a stubborn stain 
refuses to budge;
rubbed until it fades 
to a lighter shade of making do
till she can afford another.
A fly settles on the half-cold
remnants of a shank of lamb –
with a wave of her hand
says goodbye to brief lives
and all that might have been.
Through an open window wafts
the crying of a child, a blackbird
serenading its mate, next-door's TV,
and, but a small, ceasing to be.