'Just One of those Things'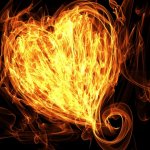 Tue, 07 Jul 2015
'So it's goodbye, dear, and Amen...
here's hoping we meet, now and then.
It was great fun, but it was just
one of those things'. Cole Porter
You didn't kiss me when you left, today,
nor have you for a long time.  Oh, I know
you've got a lot on.  Meetings here, there
and everywhere.  Funny...how we've changed
over the years; I can recall when we thought
the world would end when we weren't 
in each other's line of sight. 'Too hot, not 
to cool down...' isn't that how
the song goes?
It's not only that, it's the way you breeze out...
never once giving a thought to me, almost
as if you breathe a sigh of relief – soon 
as you leave. Would it make any difference
if I held you, real close, said things in your ear
like I used to say.  Would you still walk away
without even a sigh?
Maybe I'll do that, or maybe, I'm too afraid
to try.  Yesterday, I forgot to mention, I went
outside – hung the washing on the line.  I
had a head full of thunder; those wind-chimes
you bought me that Christmas, echoing 
in my ears.  I felt a pressure on my back –
like someone taking shelter from the cold,
but it was only the wind.  For a moment,
thought it might be you.