The Poetry of Porcelain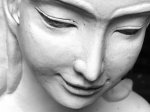 Mon, 20 Jul 2015
He could tell by its style...the shade
of the clay – trace its origin, its artist...
What was its purpose; to hold sugar,
or tea – rosewater or jam.  
The bad chip on its rim – dropped
from careless hands, painstakingly repaired – 
given back its dignity, and a semblance
of its former glory. 
To him, its imperfections made it 
more perfect; cerulean blue glaze...a moriage 
enamel dragon in gold paint, encircling
 swirling clouds.  
Held to the light, a small child's face
at the very base, impressed 
in lithophane.  
She says she's going to bed...
labels him ' an obsessive'.
It didn't used to be the case.
He'd met her at art school
in the days when Potter's Pink
and Indian Red coursed through
her veins – 
her life's blood. But
she'd changed.  Hardly picked up
a brush anymore, except
to paint her nails. 
He watches her sleeping.
Peas in a pod, they'd been;
presently though, they went
their separate ways, had done for years, 
all the same, theirs – a  decent marriage; 
like pillars of a temple – separate, and yet
with one common good. 
Her skin, milk white as the finest
Limoges ...with his fingers traces 
the silvered web of stretch-marks 
which she loathed,  
yet they spoke with more eloquence 
than words, of the wonders of life,
and the miracle of birth.