Homage to Mr. Ginsberg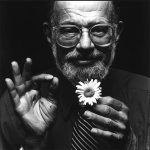 Thu, 17 Sep 2015
1 likes
I
Thank you, Silence.
Thank you for settling in the pits of my heart in the dead of night   
And smudging the Things That I Have Seen:
Raving madmen in the spastic nighttime streets nursing joints,
    Drowning in psychedelics and speed and spewing poetry in the sickly light of streetlamps.
Barbarians kicking in the teeth of  Mycenaeans in back alleys
    Behind hipster bars oozing paint and music.
Clay teenaged heads finding sudden interest in Locke and Rand or Thompson and Marx
    Their lips dripping sibilant, pretentious, self-penned virgin verse.
Rapists waking and walking free and content in art galleries
    With cigars hanging from their mouths and knives burrowed in their tongues.
The machinations of Hell acting out their choreography
    Glimpsed between the lines
    While America reads from lines of Milton and inhales lines of cocaine.
II
Thank you, Silence.
Thank you for settling in the pits of my heart in the dead of night
And muffling the Things That I Have Heard:
Manifestos spun from the iron of prison bars dancing angry and poetic upon radio waves
   And zig-zagging up laser beams.
The lamentations of a million suffocating Burmese
   Asphyxiated by the smoke of industry and pressed under a mountain of cheap clothes.
The pained, desperate cries of the unwilling and the unable that reach up
   Into the chests of bystanders and squeeze like a gnarled claw reaching for salvation
        From the ruckus of alcohol and macho celebration.
The conspiratorial mutterings on the Senate floor and in sterile Pentagon halls
   Whispered by tongues coated in money.
The gunshots and the bombs that continue to tear up the pages of the Arabian Nights,
   Birth fear and light fires under Death's ass, telling him to hop to it.
The inebriated late-night Saturday night retching of our self-appointed Moral Guardians
    Who clean the vomit from their shirts and kick their hookers to the street in time to deliver
        The next morning's sermon.
The stifled pains of office workers forced to chew broken glass
   And sterilize themselves with razor blades.
The silk flowing, slipping intimately from the throats of Sappho and Anactoria
   Who pass precious tender moments with the plucking of lyre strings,
Listening in on Socrates and Alkibiades conversing with bloodstained Sergius and Bacchus on
   Matters of love
And casting suspicious glances to the meth-breathed killers walking the streets outside
   Their windows.
III
Thank you, Silence.
Thank you, indeed.
Thank you for hiding the bodies in the backyard
    And obscuring the stench with flowers and perfume.
Thank you, Silence;
   Thank you for your effort.
   Thank you for your concern.
   Thank you for your care.
   Thank you, but please don't come again.
Thank you, Silence, thank you.
But we are big boys and big girls now.
We are the orphaned bastard children of Lady Liberty
And we have,
    Regrettably,
Outgrown you.