"The joy of an Indian summer*"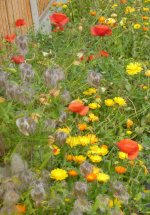 Thu, 08 Oct 2015
– an unexpected extension of life and love in season of wilting
… a sudden sign
… diagnosis clear
… 'expect quick decline
… the passing is near' …
but a return to home
unexpected and sweet
with joys still to share
and practical care
to learn,
and discern
the growth in each other,
of patience and peace
by grace –
one, difficulties bearing,
accepting,
and the husband's weary watching
though wearing.
knows increasing confidence
in the God who is daily
answering prayers,
though the appeal to heal,
only brings more assurance
of a future cure –
new body, free of death,
new heaven, new earth.
Their sparkling conversation
reduced, but the storehouse
of memories beloved
and humorous,
witty and serious,
stimulating,
articulate,
spiritual and zealous
buttress the bond,
and ignite united pleasure
in reading loving correspondence,
enjoying gifts of flowers
of beauty and fragrance,
receiving visitors, savouring meals,
a film, time of prayer,
and delight in God's words
for a while they continue to taste and share.
Living a day at a time:
valuable treasure.
[*The title was the 'subject line' on a recent email from the husband in this situation. This verse is based on a few emails from him]
[IP: Indian Summer]