Dark Black Night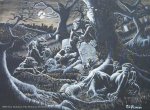 Sun, 25 Oct 2015
Once upon a midnight, ghostly,
Partied many, dead ones mostly.
Feasting in the graveyard, sprightly,
White eyed werewolves gorged, engrossedly.
In the bone yard, drab and squalid,
Apparitions (staring stolid
Neath the veiled moon, clouded lightly)
Sought fresh bodies, lean but solid.
Fiendish eyes shone, light and sparkly,                                    
Ghouls and demons danced so darkly.
Maggots munching mush unsightly,
Black blood streamed like ink, quite starkly.
Fetid flesh oozed, flowing freely
Through the crypt doors, cold and steely.
Shadows, ashen, pranced contritely,
Ebon serpents slithered eely.
As it happens, all too often,
Zombies dimly closed the coffin –
Ra, the sun god, rising slightly
Hunger pangs were soon to soften.
If you ask, I'll tell you blankly,
When you're feeling dark and dankly
Come to where this happens nightly.
They'll enjoy the feast, quite frankly...