Tripping the Light Fantastic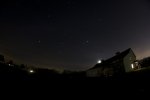 Sun, 15 Nov 2015
These windblown, brooding, barren
hills, a far cry from his native land.
Diwali – coming around soon; glances
at the moon, and the stars. 
Gets to wondering how many
will die, right now, right this second,
and how many millions of light years
would it take before we'd even notice
they were gone?
Autumn around the corner; frost, an early one,
settles in the glen, as he bends down –
tucks a body – a lamb, under one arm...
hadn't stood a chance from the start, 
poor thing, rejected by its kind;  
as if it could help being born black,
or even as if it mattered. Mother Nature
can be crueller than Man, sometimes,
but I guess she'd have an answer
as most women did; something about
all making sense in the grand scheme of things.
Wanders to where his small field
takes its leave of the land – far below
hears the sea harness its constant catch
of shingle and shale
where kittiwakes dip and dive – set up
home where reason says they can't,
and where they say they can.
Back on his patch – locks up
for the night.  The cold, and presence
of death, chill his bones.
A small, clay lamp, his precious diya, 
a  Diwali relic from his homeland, flickers
at a kitchen window.
Goes inside – turning his back
on distant towns and cities and insistence
to outshine glimmering galaxies
doing their damnedest, their level best 
to consume lorn lights such as his...
and the light it shed.