Sex Ed. Redux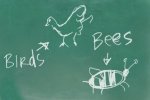 Wed, 09 Dec 2015
How well did Sex Ed. really educate you?
What did it tell you of infatuation?
    The intoxication of humanity that draws out the small:
        The rich tones and texture of her hair?
        The contour and tenderness of his lips?
    The primitive depths of the brain screaming with all their power
        For you to wrap yourself into that body
        In an explosion of warmth and skin and chemicals?
    The golden electricity that shoots down your bones;
        That tangles itself in your chest and turns your insides out upon the street?
What did it tell you of heartbreak?
    That intestine-twisting sensation that runs the best of us through meat grinders
    And ferments heady infatuation down to visceral revulsion?
What did it tell you of the sunrise
    Glimpsed from bed through a half-open window as static rises on your skin?
        Not from the cool 7AM air playing about the room,
    But from the sensation
        Of him tightening himself around your torso and you responding in kind.
        Of her smiling words whispered into your ear and scurrying down your spine.
That 7AM static.
    Like every cell in your body being embraced individually all at once.
That 7AM static
    Drawn up through fingers playing with hair and exploring,
        Weaving pink and blue silk breathed out from crimped lips by howling rib cages
            Amidst a taste of salt, the smell of sweat and tongues on necks.
That 7AM static
    Radiating in a warm halo, for in this moment you are indeed angelic.