All change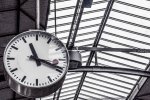 Tue, 19 Jan 2016
Time started one billionth
of a station clock's tick
from where you looked.
Your look changed everything.
Nothing, nothing
could remain the same.
You saw atoms of dust
collide with photons
surging through the crystal roof.
Elements coalesced and burned
fresh skin, exposed for the first time. 
In the second second 
doors closed slowly
and curtain fibres bonded,
while stories developed. 
The clock's hands clicked
forward and wheels
squealed against burdened steel.
You saw the curving track
vanish. Behind you,
everything had changed.